'It's All About Advantage': Kevin Garnett Opens Up About His Strange Relationship With Kobe Bryant
Published 02/27/2021, 11:30 AM EST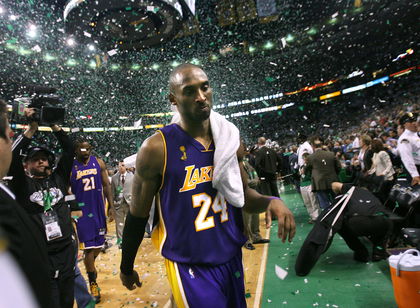 ---
---
As vividly as one would recollect the beef between Michael Jordan and Isiah Thomas, they'd also remember the rivalry that Kobe Bryant and Kevin Garnett shared. The Lakers and the Celtics marked a great deal of competitiveness when these two led their sides. 
ADVERTISEMENT
Article continues below this ad
The juggernauts revamped that age-old Magic Johnson vs Larry Bird feeling and breathed life into the tussle between the two franchises. But how was it possible that both Kobe and KG shared such an electrifying on-court presence and a cool as ice off-court camaraderie?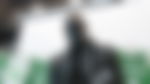 Boston Celtics legend revealed the dynamics of their relation
ADVERTISEMENT
Article continues below this ad
Last year in April, the league selected Lakers' late hero Kobe Bryant as the first-ballot Hall of Famer with Tim Duncan (Spurs) and Kevin Garnett (Celtics). Arguably, this was one of the most legendary HoF line-ups to receive prestigious recognition in the same year. 
In an interview with South African comedian Trevor Noah, Kevin Garnett remembered that hot-and-snowy relationship with Kobe Bryant.
"I think Kobe, and I had a great balance of respect for each other. When you hit the floor as gladiators, you have respect but with the lines. But it's free game. It's all about advantage. You're trying to look for that advantage every minute, every second of the game.
"And when you come off the court, it's a lot less intense, a lot more intimate. The conversations are obviously long running and they're in-depth. But when you're between the lines, there are no rules, only respect. If you do not have respect, then it goes another way."
The world remembers how Kevin Garnett pulled extraordinary defense on The Black Mamba during the NBA Finals 2008. In that playoff series, KG was the rebound and assist leader while Kobe was the point-leader.
Kevin Garnett vs Kobe Bryant: head-to-head
The two men faced each other 76 times in their career till 2016. Kobe led the regular-games 31-20 and the postseason at 14-11. In 2008, the C's won their 17th NBA title and left a scar on the Lakers' hopes to stretch their all-time championship numbers.
ADVERTISEMENT
Article continues below this ad
However, Kobe retaliated and sought his revenge in 2010 when they won the NBA Finals in Game 7 to lift their 16th franchise title. That year, Kobe made it even against Kevin Garnett and showed the Celtics' lethal trio the backdoor. 
Even as so much happened between Kobe and KG on the court, they were always captured smiling and hugging one another off it. As KG further added, "Kobe and I had a great understanding of each other. I met him when he was very young. We started off when we were young in the relationship, and we kept that throughout our whole times in the league. So it's only right that we go in the Hall together."
Their career timelines totally overlap, and that proves how the universe wanted them to share a great relationship. In KG's memoir, A to Z: An Uncensored Encyclopedia, you can read more about the details of his life. If you already have read it, let us know your review in the comments.
ADVERTISEMENT
Article continues below this ad
Read also – From Vince Carter to Shaquille O'Neal: Five NBA Players Who Were Able to School Kobe Bryant