'It's Sickening': Miami Heat's Duncan Robinson Explains Why Stephen Curry Belongs in MVP Conversation
Published 04/25/2021, 1:30 PM EDT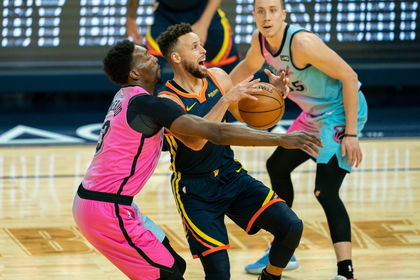 ---
---
Stephen Curry is playing the best basketball of his career. The Golden State Warriors guard has been putting up ridiculous numbers over the last few games. Curry has been shooting the ball in a way that we have never seen him do before. That is a statement that carries a lot of weight but is true in this context. In fact, one current player believes that Curry should be in the MVP conversation for his efforts.
ADVERTISEMENT
Article continues below this ad
Duncan Robinson talks Stephen Curry
Miami Heat guard Duncan Robinson spoke on his podcast about Stephen Curry. He believes that Curry is the current standard-bearer for shooting in the NBA. Curry could put some of the best shooters in the league to shame right now.
ADVERTISEMENT
Article continues below this ad
Robinson spoke about the run Curry has been on, and just marveled at how he's been able to do this.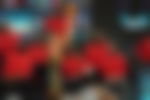 "I think the beautiful thing about Steph Curry right now is that he is the ultimate perspective when it comes to shooting. Anybody would think for maybe one second that maybe I'm having a pretty good shooting season. And then you just see the statistics that this guy is putting up on a consistent basis. It's otherworldly. I think the last five games he's averaging over nine threes made per game…"
Curry on the run of his career right now
Robinson added that Curry has been on another level in recent weeks. In fact, he has even gone past his incredible 2016 unanimous MVP season. While the Golden State Warriors are not as good this year, Robinson believes that Curry deserves to be in the MVP conversation. There isn't anyone in the NBA who is doing what Curry has done in recent weeks.
ADVERTISEMENT
Article continues below this ad
"It's sickening, I think it's an absolute joke. You look at the numbers, and he has surpassed at this point his unanimous MVP season. Obviously that year they were the best team in the NBA, and this year they're battling to get a play-in spot. But I don't care, it's incredible what he's done, he needs to be in this MVP conversation. Because when you watch him play basketball, he's one of the few players – you watch him play, it is very clear that nobody in the NBA can do what he's doing."
ADVERTISEMENT
Article continues below this ad
Should Stephen Curry be in the MVP conversation? He is putting up ridiculous numbers right now. However, the Warriors have a poor record and are struggling to make a play-in spot in the West. However, if Curry continues this run till the end of the season, he may just snatch the accolade for himself.