Jalen Rose Believes This is Pat Riley's Last Chance to Get a Ring with Miami Heat, But They're Still Not Close
Published 08/04/2021, 6:30 AM EDT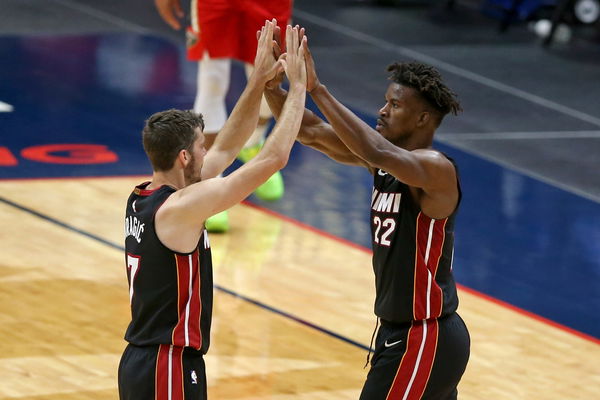 ---
---
The Miami Heat is one of the most successful NBA franchises by every standard. They've played 66.67% of the postseason in the last 33 years and won three NBA titles, almost dominating the EC for 10 years from 2004 to 2014. That's a huge legacy right there.
ADVERTISEMENT
Article continues below this ad
However, after losing their third NBA Final in the last decade, the big market team struggled to stay on the map in 2020-21. They lost against the avenging Milwaukee Bucks in a poor fashion and exposed their roster weaknesses. So just two months down the line, some acquisitions under the belt, and another few in the pipeline, are they again a contending unit?
ADVERTISEMENT
Article continues below this ad
Jalen Rose sees the Miami Heat as a unit capable of pulling upsets (with conditions)
Recently, former NBA star Jalen Rose sat to discuss the fate of several franchises. He discussed how Russell Westbrook would help the Lakers and also broke down his assessment on the top EC teams. 
About the Miami Heat's recent off-season moves, he mentioned their 76-YO legendary President and reacted, "It put the Heat in position to get Pat Riley, the Godfather, one last run at a title-contending team. I officially called the Miami Mafia for almost two decades. He's not just gonna allow the Nets to have a Big Three, Giannis to win a ring and do not make moves the off-season." 
The Heat made their best move by accepting Raptors' Kyle Lowry in a 3-year $90 million sign-and-trade deal. The 6x All-Star instantly promises them a physical defensive play coupled with a 40% three-point shooting. 
Jalen further shared certain situations that can make any good team title contenders. He added, "They signed four of their five starters yesterday. That's putting all your chips in the middle of the table… Injuries happen, players having bad seasons happen. Now when you're in the Miami Heat, you're in the conversation, if you can play your best basketball…"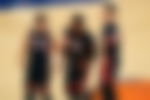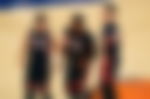 What else makes the Heatles a magical franchise?
Well, by re-signing Duncan Robinson on a five-year deal and also keeping Tyler Herro close, the franchise showed faith in their talent. Also, the organization's faith in its long-time coach Erik Spoelstra is worth the praise. 
ADVERTISEMENT
Article continues below this ad
Erik joined the Heat back in 1997 as an assistant coach and also later served as a scout. But ever since 2008, he has helped the team win two NBA titles and three EC championships. No wonder he can repeat that if things fall in place.
Jalen too promoted this by claiming, "If I was drafting all of the coaches in the NBA, that [Erik Spoelstra] will be my guy. I see him do everything, I've seen him coach the Big Three with LeBron, DWade, and Chris Bosh…. rebuild the roster with DWade… with Jimmy Butler and Bam Adebayo, and Duncan Robinson… Just because your team isn't favorite to win it all, doesn't mean you don't make moves." 
ADVERTISEMENT
Article continues below this ad
So what do you think, can Miami upset the likes of Nets/Bucks and reach the NBA Finals this year? Help us know in the comments box below.
Watch this story – LeBron James' Best Clutch Moments of His NBA Career Against Jimmy Butler, Victor Oladipo, and Others