Jamal Murray Explains Why Nikola Jokic is in the MVP Conversation Alongside LeBron James and Others
Published 03/27/2021, 11:28 PM EDT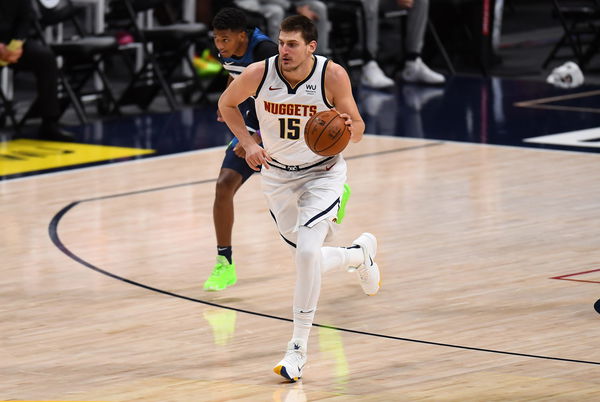 ---
---
Denver Nuggets' center Nikola Jokic is arguably one of the most talented players in the NBA. Despite being a relatively less athletic center, the Serbian has thrived with his varied skills of playmaking and scoring.
The 3-time All-Star has been particularly exceptional this season. Averaging 27.2 points, 11.1 rebounds, and 8.6 assists, 'the Joker' is clearly the standout player for the Nuggets this season. He is even leading the league in PER.
Jamal Murray opens up about playing alongside Nikola Jokic
Jamal Murray is the second prominent star for the Denver Nuggets. Playing alongside Jokic, the Canadian has developed his game over time and is putting up borderline All-Star numbers.
In an interview with ESPN's Cassidy Hubbarth, the 24-year-old opened up about playing alongside the 7'0″ center.
Murray said, "That's amazing. I'll come off of a pick and roll I get, whether they switch or not my feed big fella he's like 'yeah I'm open' but he's finding guys he's looking people off he's scoring whatever he wants, playing defense getting deflections, throwing full court passes."
"He's been amazing, there's nothing to say, you can literally give him the ball and he'll make anything happen, he makes everybody better, he's so unselfish he's looking to pass, looking to make a play for others and he's the system of our offense it's amazing how easy it makes it look and how easy he makes the game for not just him but for everybody. It's a lot of fun."
With the insane stats and the impact he has had on the team, Jokic has become a front-runner for the ongoing regular-season MVP race. The Serbian has a real chance at the trophy, given that two of his biggest competitors, LeBron James, and Joel Embiid, are out with injuries for an extended amount of time.
But the only problem he might have on his way to the trophy is the team's record. Traditionally, the MVP trophy is given to players who are generally amongst the top three seeds.
The West might be stacked right now, but with the Lakers slipping and the inconsistent Clippers, the Nuggets may have a chance to make it back to the top three spots. Can Nikola Jokic become the first center to win the MVP trophy in the last 21 years?
ADVERTISEMENT
Article continues below this ad