James Harden Sends Massive Warning to Lakers Before NBA 2021-22 Season
Published 08/19/2021, 11:23 AM EDT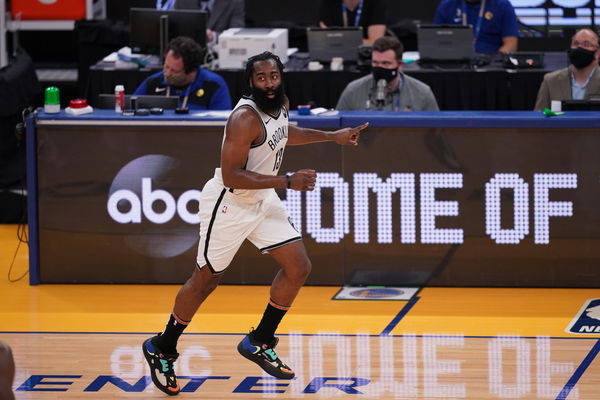 ---
---
The Brooklyn Nets are one of the most stacked teams in the NBA. With the big three of Kevin Durant, Kyrie Irving and James Harden, the Nets were a dream team offensively last season. While many doubted how the big three might fit, the Nets showed their class in the limited time they were in full strength.
ADVERTISEMENT
Article continues below this ad
With Harden and Irving switching roles as point guard and shooting guard respectively, the Nets showed how dangerous they can be. While they were the sure favorites to win the title last season, injuries to two of the big three hampered their season as they ultimately crashed out in the Eastern Conference semifinals.
ADVERTISEMENT
Article continues below this ad
James Harden confident of Nets' winning it all next season
The Nets were one of the biggest favorites to clinch the title next season after they formed the big three last season. While last season, they were the only team with a potential big three, other teams have followed suit this season.
The Lakers certainly took notice of the same and immediately made the move for Russell Westbrook in the off-season. With the big three of LeBron James, Anthony Davis and Westbrook, the Lakers look like the biggest challengers for Nets and have re-established themselves as the favorites.
ADVERTISEMENT
Article continues below this ad
But Nets' superstar James Harden is still confident with his team. In an interview with Sports Illustrated, 'the Beard' was pretty firm that a healthy Nets' team could beat everyone in the league. "At full strength, nobody can beat us. I'm just going to leave it at that."
While we saw limited action from the Nets' big three, there is no doubting the quality they bring on the court. With Harden's distribution, Durant's scoring and Kyrie handles, the Nets were absolutely unstoppable when they were in full strength.
ADVERTISEMENT
Article continues below this ad
Given how offensively talented the big three are, opposition teams often left open shots for the supporting cast. While Brooklyn might not have added big names to their roster, they have ensured that Harden, Durant and Irving have a better supporting cast around them. New signing Patty Mills along with Cameron Thomas adds more firepower to the second unit. After an impressive season, Blake Griffin is also back in the roster.
Apart from these moves, the Jevon Carter and James Johnson add some much needed depth to the team. The Nets are a loaded side and if not for their injury concerns, there is no doubting that the Nets are one of the biggest threats to the defending champions Milwaukee Bucks.