JaVale McGee Issues Warning to the League Ahead of Klay Thompson's Return for the Warriors
Published 09/15/2021, 11:00 AM EDT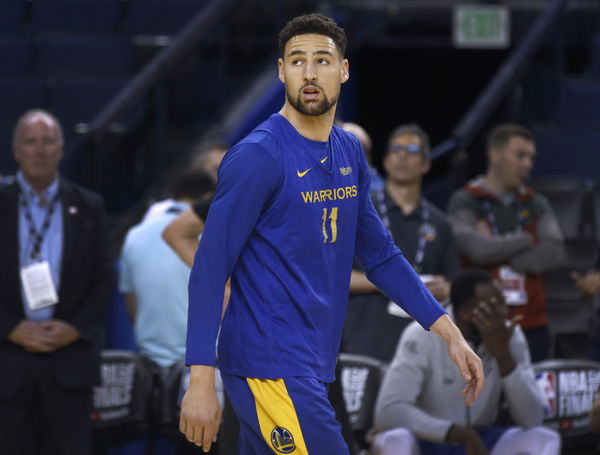 One of the most anticipated returns ahead of the new NBA season is that of Klay Thompson. After a two-year hiatus, the attacking prowess is set to return for the Golden State Warriors in 2021-22. However, the road to recovery has not been easy, and neither will his return. Thompson will have to ease his way into normalcy.
Ahead of the new campaign, Phoenix Suns' JaVale McGee commented on Thompson's return to the league.
McGee believes Klay Thompson will be his old self
ADVERTISEMENT
Article continues below this ad
Former Laker JaVale McGee has spent over a decade in the NBA. Recently, the 33-year-old spent a short holiday with Warriors shooting-guard Thompson. After returning, the center-forward revealed what he thinks of Klay's return for Golden State.
In an interview with Shannon Sharpe, when asked about the version of Thompson he is expecting next year, McGee said, "I expect the old Klay [Thompson] to tell the truth."
He continued, "The only thing I see will maybe be slacking in that first month of the season is defense, just because you know how aggressive Klay is and how good he is on defense. I don't think you're gonna get those reps in the off-season or practice on the defensive end. So I think that first month he's gonna struggle a little bit on defense, but offensively he didn't hurt his arm. Ain't nothing wrong with his arm, so that boy's gonna shoot."
WATCH THIS STORY: How Kobe Bryant's Hairstyle Evolved With Different Milestones in His Career
Klay is returning from two big injury layoffs
In June 2019, Klay Thompson played his last competitive game for the Warriors. Ever since then, Stephen Curry and his men have missed an x-factor player like Thompson in attack. In Game-6 of the 2019 NBA Finals, the 31-year-old limped off due to injury. In spite of the setback, he managed to come back the following season, only to be sidelined again.
ADVERTISEMENT
Article continues below this ad
Before the start of the 2020-21 edition of the league, the younger half of the 'Splash brothers' suffered another blow, tearing his Achilles during the off-season. Thus, he missed another campaign, leaving Steve Kerr's men stranded again. As a result, they will be desperate to have him back this year, to strengthen the Warriors attack.
ADVERTISEMENT
Article continues below this ad
JaVale McGee has already dished out a statement of caution to the rest of the league. If Klay Thompson returns to his best form, there will be some fireworks this year. Can the Golden State Warriors romp to another title run? Let's wait and watch.