Jaylen Brown Opens Up About How Hilarious Anecdote With Steph Curry In The All-Star Game
Published 03/08/2021, 11:30 AM EST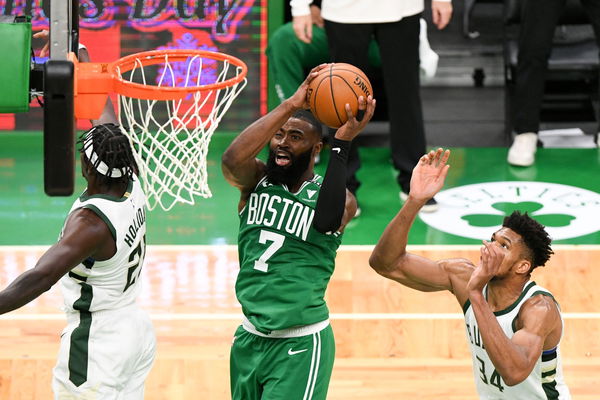 ---
---
The All-Star game came to a close as Team LeBron outclassed Team Durant 170-150. Players like LeBron James and Steph Curry are a staple in the All-Star week, but some young players also made their All-Star debut for the very first time.
ADVERTISEMENT
Article continues below this ad
While players like Zion Williamson and Zach LaVine were decent, Celtics' star Jaylen Brown was clearly a standout player among all the debutants. Coming off of the bench, the 24-year-old scored 22 points in the 26 minutes he was on the floor.
Jaylen Brown speaks after sharing the court with Steph Curry
ADVERTISEMENT
Article continues below this ad
The Celtics' star was on a roll in the All-Star game, making five of his seven attempted three-pointers. But one of the shots he attempted was a Steph Curry trademark three from the logo.
The 24-year-old shared a hilarious anecdote on how he felt after he attempted that shot and how Steph Curry reacted to the same. "When I got hot there, Steph was the main person that was cheering me on.
"I shot one from the logo and it didn't go in, but Steph said he liked it. I was, like, 'Man, I thought I was you for a second,' and he started laughing."

He also opened up about how he felt playing alongside the likes of LeBron James and Steph Curry in his first All-Star game.
"Being able to have back and forth, dialogues with those guys and I was you know talking to LeBron a lot and sitting on the bench, asking him questions, probably bring annoying but you know learning something, trying to pick up some knowledge."
Brown has certainly developed into one of the most talented young players in the NBA and has arguably been the best player in an underperforming Boston Celtics team. If he continues to grow as a player, he might become a two-way beast very soon.
Can Brown lead the Boston Celtics to a deep playoff run?
After suffering through a major slump in form and dropping well below .500, the Boston Celtics are finally back on a winning run with a four-game winning streak.
ADVERTISEMENT
Article continues below this ad
The biggest downside for the Celtics has been the inconsistent form of Kemba Walker. The 4-time All-Star has averaged 18.5 points, 4.6 assists, and 3.6 rebounds per game. But in the last five games, there has been a significant jump in his output, averaging 22.8 points, 5.8 assists, and 3.6 rebounds per game.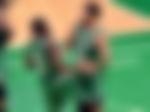 Even Jaylen Brown has seen a slight dip in his numbers in the last 10 games, averaging 21.6 points, 5.5 rebounds, and 4.8 assists per game. Despite the road bump, Brown is having his most productive season on the court and has taken some playmaking load off of Walker.
ADVERTISEMENT
Article continues below this ad
The Celtics have many talented players on the court, but all of them haven't been in the best of forms. Jayson Tatum and Brown are two of the finest young players on the side, but they somehow lack a vocal leader on the court. They have all the tools to be a top team in the East, but will the stars finally step up for the team?