"Dribbles Better Than Jaylen Brown": Fans Unleash Comments as Jayson Tatum's Son Showcases His On-Court Skill
Published 06/16/2022, 7:16 AM EDT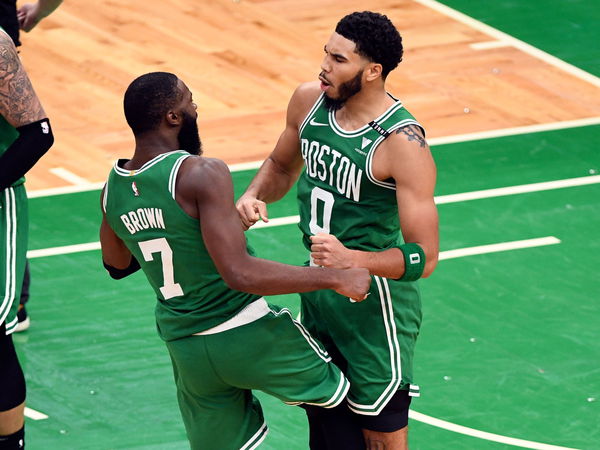 The Boston Celtics fans finally had something to cheer about after their team suffered back-to-back losses in games 4 and 5 in the 2022 NBA Finals. Jayson Tatum posted an adorable clip of his son Deuce showing off his basketball skills. The adorable actions of the four-year-old didn't take long to go viral.
Deuce has accompanied his father in many crucial matches over the past few years. The little star has garnered much media attention with his antics on the sidelines. In fact, he has become a bona fide show stopper at TD Garden for some time now.
NBA fans react to Deuce Tatum's basketball skills
ADVERTISEMENT
Article continues below this ad
NBA fans have witnessed Tatum grow as a player almost simultaneously with his son, Deuce. In fact, Deuce was born in the same year Tatum entered the league. There is no doubt that Jayson Tatum has displayed exemplary parenting skills off the court alongside his basketball prowess on the court.
The presence of Deuce has become a kind of a staple in Celtics home fixtures. As a result, the little star has gifted the fans with many adorable moments. His fun interactions with his father and other players on the roster have garnered him a lot of new fans.
Meanwhile, the Celtics fans have not been too impressed by Boston's performance in the past two games. Therefore, they took this opportunity to roast Celtics stars Jayson Tatum and Jaylen Brown. Here are some of the best reactions.
All whilst his dad has more unforced turnovers off the dribble and doubles up Jaylen in turnovers … but go ahead

— SMOKIN' MAC (@Younghandsome71) June 15, 2022
I think jaylen is better. But it's a fair argument

— Ryan Saunders Tank Commander (@PwilkersonPeter) June 15, 2022
Hope he got that dawg in him though cuz he's father dont.

— Skips Burner (@famousbucket) June 15, 2022
I promise he will be more effective than Payton Pritchard

— jetmoney (@jetmoney01) June 15, 2022
Someone tell him to suit up bc he's dad seems to be missing

— Hafizh (@HfzhMaula1) June 15, 2022
Jayson Tatum and the Celtics face an uphill battle against the Warriors
The Boston Celtics are on the verge of losing the NBA Finals after a crucial game 5 defeat on the road against the Golden State Warriors. The 10-point loss comes in the wake of an array of mediocre performances from All-Star duo Jayson Tatum and Jaylen Brown.
ADVERTISEMENT
Article continues below this ad
Jayson Tatum has failed to show up emphatically as he has done in the rest of the playoffs. The inaugural Larry Bird Eastern Conference Finals MVP is averaging a paltry 23.2 points in the series.
On the other hand, Jaylen Brown has recently missed the mark on several occasions as well. The 2021 All-Star had only 18 points in the Celtics' 10-point loss on Monday, shooting 5-for-18 from the field, and 0-for-5 from deep.
ADVERTISEMENT
Article continues below this ad
WATCH THIS STORY: WARRIORS VS CELTICS GAME 6 PREVIEW, PREDICTIONS, ODDS
Can the Celtics force a game 7 at TD Garden on Thursday? Comment your thoughts below.