Jermaine O'Neal Reveals Surprising Reasons Behind Shooting "Malice At The Palace" Documentary
Published 08/14/2021, 3:17 PM EDT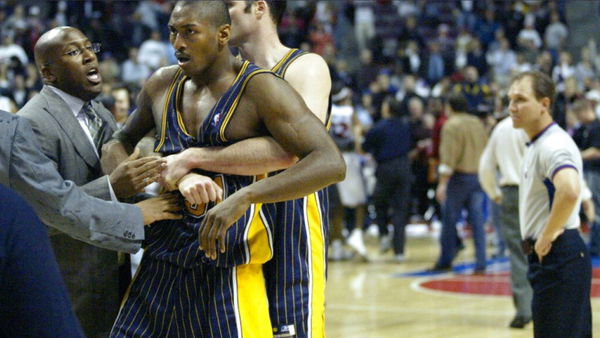 Fan encounters in the NBA are a pretty common affair. Be it fans criticizing a player or players having some words, fans and players generally share a unique dynamic. But perhaps the wildest fan-player clash ever was the Malice at the Palace.
Back in 2004, when two Eastern Conference juggernauts in Indiana Pacers and Detroit Pistons faced off against each other, tensions were pretty high to say the least. With the Pacers looking to avenge their Conference finals loss, the visitors were out there to make a statement.
While the Pacers successfully beat the defending champions Pistons, the Palace at the Auburn Hills had a ruthless crowd. Reacting to an altercation between Ben Wallace and Ron Artest, a Pistons' fan threw a cup of beer on Artest.
The Pacers' guard lost it and thus began perhaps the worst fan-player confrontation ever. From fans throwing chairs, food etc at the Pacers' players to the likes Stephen Jackson, Artest and Jermaine O'Neal having multiple physical altercations, the Malice at the Palace had it all.
Jermaine O'Neal explains why he wanted a documentary on Malice at the Palace
Recently OTT platform Netflix released a 98 minute documentary on the whole event. From the point of views of players like Artest, O'Neal and Jackson to even fans speaking through their POVs, the Malice at the Palace documentary gives an all-round view on the event.
Former Pacers' forward Jermaine O'Neal who had a massive impact due to the event recently spoke about the documentary. In a recent interview, O'Neal explained why he wanted a documentary on the event in the first place.
"I knew that it was information out there that was never talked about….. A doc that one didn't alienate a league that I care so much about or you know the pacers or anybody else that I care a lot about but really just to have the conversation for the first time so people can get a different perspective and see just how the narrative was changed."
He added, "When we shot this doc i never even saw Stephen Jackson or Ron Artest. We shot it all in different locations. Ben Wallace or Reggie miller and all of us shot it separately. Guys wanted to speak openly about it mainly because we want to put this thing to bed so people can stop having anniversaries and talking about it."
Malice at the Palace certainly had a lasting impact on many players and fans alike. For the Pacers, Ron Artest was never the same and left the team. Stephen Jackson hopped around the league while Jermaine O'Neal couldn't keep up his dominance. Given the different POVs this documentary presents, this documentary on the 'Malice at the Palace' is a must watch for fans all around the world.