Jimmy Butler Throws a Profanity Laced Rant on How Things Ended With Joel Embiid's 76ers After Heat Proceeds to Eastern Conference Finals
Published 05/13/2022, 9:30 AM EDT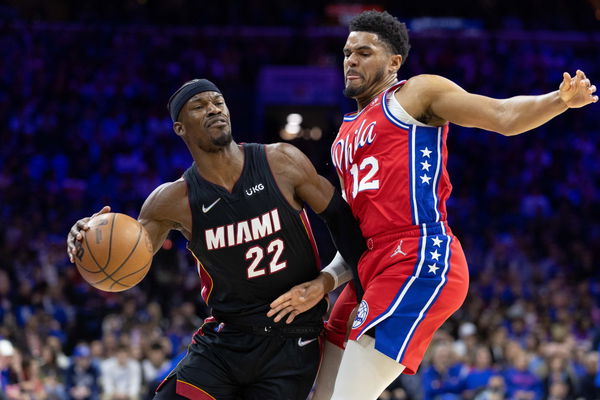 The Miami Heat will be heading to their second conference finals in three years after sealing the Philadelphia 76ers' elimination from the playoffs. Spearheaded by their ace, Jimmy Butler, the team has been making "Heat Waves" in the playoffs. However, Butler sticking the dagger in a franchise he formerly starred for was one of the playoffs' most intriguing storylines. 
After dropping 32 points for his team, Butler gave Sixers faithful the realization that he was the one who got away. The Miami star didn't hold back in voicing his thoughts on the Sixers' decision to let him walk back in 2o19. As he exited the tunnel and walked past cameras stationed in front of his team's locker room, Butler yelled, "Tobias Harris over me?"
ADVERTISEMENT
Article continues below this ad
While he let his raw emotions speak for him as he entered the tunnel, he was fairly gracious in his walk-off interview. Butler highlighted his admiration for Joel and stated that he wished he was still on his team, while simultaneously stating that he is ecstatic to be a Heat. 
Embiid reciprocated in his postgame press conference, bemoaning how the Sixers let Butler leave and still being unsure why. 
Any indication that Butler preferred to stay in Philadelphia is a haymaker for the Sixers; with hindsight confirming the Sixers' judgment to cut him loose was a blunder.
What was the Jimmy Butler-76ers saga all about?
Jimmy Butler brought his talents to Philadelphia in a trade with the Minnesota Timberwolves early in the 2018-19 season. Following a fantastic postseason run, he slipped away from the clutches of the 76ers and signed with the Heat in the 2019 summer. 
The 76ers made the decision of letting JJ Redick and Jimmy Butler walk while extending Tobias Harris' contract and replacing Redick with Josh Richardson. 
ADVERTISEMENT
Article continues below this ad
There have been conflicting stories concerning Butler's exit, with some claiming that the Sixers promised him a five-year max extension. However, according to some claims, Butler left without receiving a solid proposal. Jimmy Butler and Ben Simmons were also believed to be falling out at the time since both superstars are at their best with the rock in their hands and both failed to establish a good bond.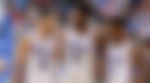 With Simmons' showing clear signs of becoming a superstar, the franchise chose to develop around him rather than Butler. They also lured Harris to a max deal since his offensive skills matched Simmons' approach. 
ADVERTISEMENT
Article continues below this ad
Watch this story- Forbes Top 10 Richest Athletes List 2022: LeBron James, and Stephen Curry Make Headlines Yet Again With 7 figure Money Bags
It's clearly evident that letting Butler depart was the wrong choice. Simmons finally clawed his way out of Philadelphia, and Butler has thrived as a Heat for the previous 3 years. Harris has been a good asset, but "Jimmy Buckets" shows night in and night out that he is on another level.