Joel Embiid Admits Being Reminiscent of Playing With Jimmy Butler After James Harden's 76ers Get Eliminated vs Heat: "I Could Have Gone to Battle With Him"
Published 05/13/2022, 9:00 AM EDT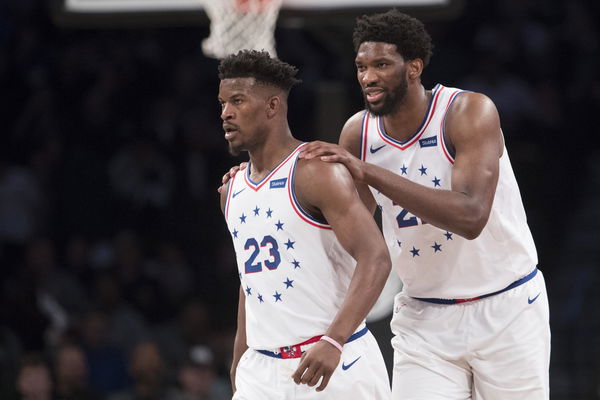 Joel Embiid will go home today a dejected man. Neither was he awarded the elusive MVP of the season, nor did his team progress towards the Conference Finals today. The Philadelphia 76ers has attracted drama for quite some time. They have now been knocked out from the 2022 NBA playoffs. There is a bit of deja vu also from last year: in 2021 and in 2022, they were eliminated while facing teams in the Conference Semi-Finals. Just the teams and the actors are a bit different.
ADVERTISEMENT
Article continues below this ad
Last year, it was Atlanta and this year, it was Miami. While Ben Simmons was severely criticized last year, it was James Harden's turn now. The only constant in these teams, was ace shooter and MVP candidate Joel Embiid. Embiid is like a tragic Shakesperan protagonist in this tale. Today, like any other protagonist in his play, he also reminisced about better days with a good friend.
In the post match press scrum, he said, "I still don't know how we let him go, but I wish I could have gone to battle with him still." The only problem is that good friend's name is Jimmy Butler, the Miami Heat's star man.
Joel Embiid and Jimmy Butler's history over the years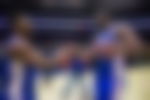 Embiid and Butler were teammates in the Philadelphia 76ers from 2018-19. They became fast friends ever since. Together, they went to the Conference Semifinals but lost to the Toronto Raptors. Butler scored 19.4 points per game, while Embiid had scored 20.
Butler was removed when the 76ers were asked to choose between him and Ben Simmons/Brett Brown. They also picked Josh Richardson, Al Horford, and Tobias Harris over the former Chicago forward during the 2019 off-season. Miami signed him in 2019 and they have been reaping benefits since.
ADVERTISEMENT
Article continues below this ad
Embiid has been part of the 76ers since 2014. It is very hard to see him leave still despite the statements he has made. Embiid already has signed a contract extension. But its not impossible to see a trade happening after what happened. Miami have to give some valuable resources in return, but it will be worth it to pair up two ace scorers to win a chip.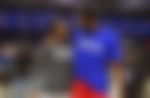 Even Butler has expressed interest in this. He has mentioned on earlier occasions about how proud he is of Joel. Butler wishes he was on that team, but he loves the Heat with all his heart too. He has much respect and love for Embiid, according to his words.
ADVERTISEMENT
Article continues below this ad
Watch this Story: NBA Stars Who are Richer than Tom Brady
Will Embiid reunite with Butler in Heat colors? How will the 76ers recover from this loss? It will be a cautionary tale if they do so.