Joel Embiid Confirms That Struggles With His Back Started Because of LeBron James' Foul on Him
Published 02/18/2021, 6:30 AM EST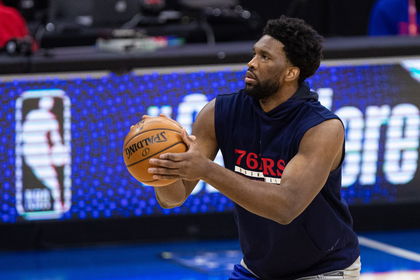 ---
---
The Philadelphia 76ers finally broke their bad spell and ended their three-game losing streak. However, this 118-113 win against the Houston Rockets didn't come easy, despite many Rockets players missing from the lineup. It was Joel Embiid who came to their rescue, otherwise, the 76ers would have slid down further. Although, Embiid himself struggled in the first half because of his back injury, partly brought about by LeBron James.
ADVERTISEMENT
Article continues below this ad
LeBron James' foul on Joel Embiid
Even though Embiid ended the game with 31 points, 11 rebounds, 9 assists, 2 steals, and one block, he struggled throughout the first half because of his sore back. Imagine how much more he could have contributed to the scoreboard if he wasn't injured.
ADVERTISEMENT
Article continues below this ad
Joel Embiid has had issues with his back before, but this soreness has been there ever since LeBron fouled him when they played the Los Angeles Lakers. Since his struggle with his back was so visible in this game, he was inquired about it in the post-game interview. Joel admitted it was his fall because of LeBron James that has aggravated this problem. However, he didn't show any resentment towards Bron for it.
"That's when it started," Embiid said, referring to Bron's foul. "But it's not alarming. As NBA players, we play every single night and the body is just sore. You just got to take care of yourself. It's normal. It's just tightness. As the days go by, some days it is tighter than usual, some days it's not. Today, when we started the game, it was tighter than usual."
Will his back injury be an issue for the 76ers?
Embiid clarified that as long as he continues going home and working on his body, he will be just fine. So, it looks like Sixers fans shouldn't be worried. Despite this, he finished the night with big numbers.
ADVERTISEMENT
Article continues below this ad
However, it is time for all of Philly's players to be remain healthy if they want to maintain their first position in the Eastern Conference. They are holding a 19-10 record, with the Nets right behind them.
They are currently looking like a team the Lakers should fear the most. Hopefully, what Embiid has said stands true, and he is back in full form within the next few games.
ADVERTISEMENT
Article continues below this ad
Read also – NBA Analyst Picks Joel Embiid Over LeBron James for 2021 MVP Award