Joel Embiid Opens Up on the Personal Sacrifice He Made by Competing in the Orlando Bubble
Published 01/02/2021, 6:30 AM CST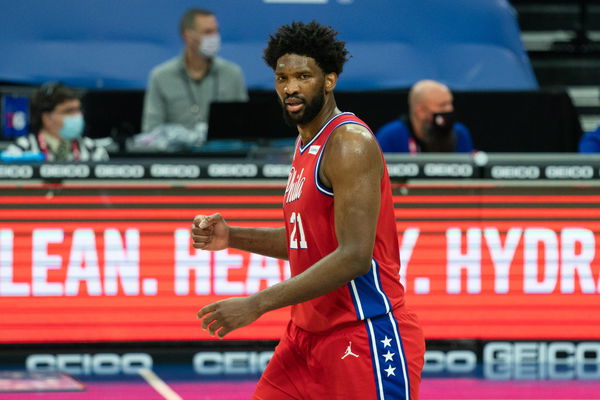 ---
---
Joel Embiid and the Philadelphia 76ers had another poor postseason run last season. In fact, they were sent home without even winning a single game against the Celtics. Additionally, their superstar Embiid faced another issue when he entered the Orlando Bubble.
ADVERTISEMENT
Article continues below this ad
When Embiid first entered the NBA Bubble, he was seen in a full protective gear. But since Embiid is a popular athlete, many mocked him for his over protective attire.
Sixers' Embiid talks about his protective gear outfit
ADVERTISEMENT
Article continues below this ad
Recently Embiid made a revelation with ESPN's Ramona Shelburne, explaining the reasoning behind his over protective gear.
"We tried to keep it a secret. Because people have bad intentions and bad energy. … So it was very hard for me to go. I just wanted to be there with her and for him. I only went [to Orlando] because I really thought we had a chance to win."
Although the Sixers couldn't achieve their goal, Embiid gave his 100%. In the series against Boston, the 26-year-old averaged 30.0 points and 12.3 rebounds while playing 36.3 minutes per game. But with Ben Simmons out due to an injury, the Sixers never even had a chance against heavyweights such as the Celtics.
Is Joel Embiid wasting his career with the Philadelphia 76ers?
ADVERTISEMENT
Article continues below this ad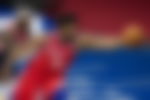 This season marks the fifth year for Joel Embiid as a 76er. Even after all these years, the 76ers have not won any hardware. But this year things might finally change for Philly, as they have added shooters around their two superstars.
Furthermore, they hired head coach Doc Rivers and new GM Daryl Morey. Both are incredibly good at their jobs, so this might finally be the year that Philly comes out of East.
ADVERTISEMENT
Article continues below this ad
But if they fail to win an NBA title this year, the front office might break up the Embiid-Simmons duo. There were already multiple reports suggesting a trade package to acquire Harden. If the 76ers really want Harden, they can't acquire him without including either Joel Embiid or Ben Simmons in a package.