Julius Randle Contract Details: When is the Knicks' Star Hitting Free Agency?
Published 05/18/2021, 10:37 PM EDT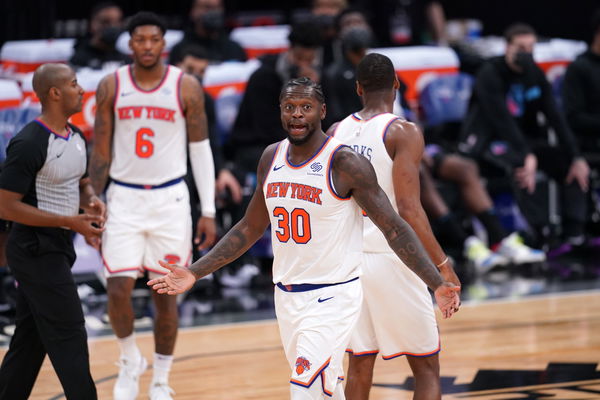 ---
---
Julius Randle is heading the current season's Most Improved Players list and deservingly so. The other notable names on the list are Christian Wood (Rockets), Michael Porter (Nuggets), and Jerami Grant (Pistons), but none of them have much on the Knicks star. 
ADVERTISEMENT
Article continues below this ad
The NY-based team went through a major transition in the 2019 off-season after closing 2018-19 with just 17 wins. Julius led that charge and has single-handedly lifted his side to #4 seed this year. But could his time in the Knicks be approaching an end? 
Julius Randle and his contract dynamics
ADVERTISEMENT
Article continues below this ad
The Beyblade joined the Knicks as a 24-YO on a 3-year $62 million contract after rejecting his $9 million player option with the Pelicans. Of this amount, $56.7 million is guaranteed, and he also earns an incentive bonus on his average each year. 
Now, if he does not receive a contract extension in this off-season, the star is going to hit his unrestricted free agency in 2022. 
If the Knicks add four more years to Randle's contract in the coming off-season, the contract size of the forward-center will get him $140 million in five years. But most probably, it will be in the interest of both sides if they wait for the 2022 off-season to come to a deal. For that to happen, the Knicks might use the $20 million team option and extend Randle until 2022 while the star player promises them another playoff season. 
If one considers an optimistic analysis, a successful 2021-22 season for the player could allow him to add $100 million when he bargains for a max extension in 2022. 
Read also – 'Never Washing This Hand': Julius Randle's Mom Narrates a Touching Kobe Bryant Tale
What is in it for the Knicks if they shell out such an enormous sum?
The answer lies in the numbers. Julius Randle, a #7 pick, is on a rise, with the 2020-21 season being his career-best. The man has averaged 24.1 points, 10.2 rebounds, and 6 assists in 71 games this year. He has shot at a career-high 41.1% from the perimeter and has been more effective than ever in his defense. 
ADVERTISEMENT
Article continues below this ad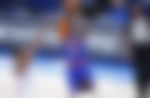 Randle is just 26-YO, and if he stays with the Knicks until 2022 and then signs a 5-year max contract, the city can have him until he is 32. This would obviously mean that the Knicks can then leverage all of his peak years and build around him. 
Next, Julius is not just a lone performer; he is also a leader who brings out the best in others. RJ Barrett's rise is the greatest result of what the 6'7" Texas man has achieved with Tom Thibodeau. Last but not least, if Randle becomes an MVP in the coming years, that would certainly help the Knicks reach deeper into the postseason. Even Julius himself had earlier said that he wishes to retire in the Knicks jersey, and that could be a huge possibility.
ADVERTISEMENT
Article continues below this ad
Do you also see Julius Randle retiring as a Knick?