'Just What the Lakers Need': Magic Johnson Welcomes Andre Drummond Deal with Open Arms
Published 03/28/2021, 10:39 PM EDT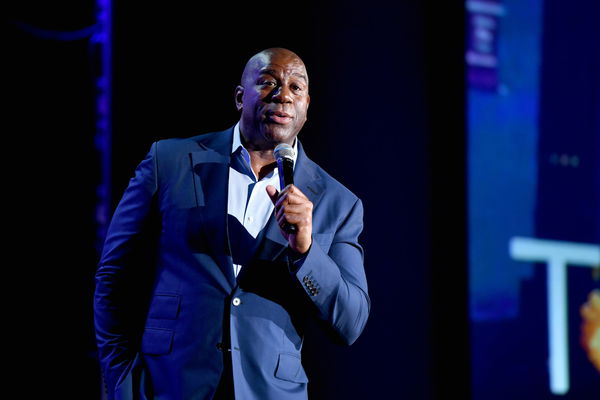 ---
---
This is a brutal basketball season with a promise of mouth-watering NBA Finals, unlike the last year. This time around, Brooklyn Nets have a very strong EC case and the Lakers are still the WC favorites, irrespective of their table standings. 
ADVERTISEMENT
Article continues below this ad
Assuming it to be Nets vs Lakers in the NBA Finals 2021, the series will blow back life into the 2017 finals. The only difference being, Kyrie Irving will play opposite LeBron James, and the Nets' massive roster would replace the Warriors' winning pieces. Magic Johnson dropped a hint of one such clash taking shape in July.
The buyout market made the strong rosters even stronger
ADVERTISEMENT
Article continues below this ad
The Nets were the first team to surprise the world by attracting LaMarcus Aldridge to their camp. With the move, they showed clear intent of winning the current season and placing all their bets into the present. Lakers' great Magic Johnson saw great value in the deal and wrote on Twitter –
The Brooklyn Nets were already the most talented team… adding LaMarcus Aldridge makes them overwhelming favorites to represent the East in the NBA Finals!

— Earvin Magic Johnson (@MagicJohnson) March 28, 2021
After that deal, the pressure was on the shorthanded Lakers to make a move. Fortunately, they had Andre Drummond very keen on joining the potential champion squad.
Just as the Big Penguin gave a green signal to the deal via his social media, Magic Johnson wrote with excitement, "Congratulations to @AndreDrummond for signing with the @Lakers and welcome to Los Angeles! Andre is just what the Lakers need; a big man who can score, rebound, and defend."
Read Also – Andre Drummond Contract Details With Lakers Leaked, Cap Space to Add 15th Player Available
Lakers vs Nets: Who has a better shot at winning?
Brooklyn Nets are being compared to the Warriors team that played five consecutive finals. The Nets have an All-Star starting five and a deep bench.
ADVERTISEMENT
Article continues below this ad
They have their own version of Steph Curry in Kyrie Irving and that of Klay Thompson in James Harden. It is going to be a monumental task for any team to beat them in a series of seven games. They now have a shot creator in LaMarcus Aldridge, someone who can defend and pass with reliable accuracy.
The Lakers obviously have LeBron James, who is more often than not the end of the conversation if he is playing his top game. To support him, Anthony Davis has already proved his worth the last year, and now they have a bench leader in Montrezl Harrell to show some depth.
Andre Drummond, the most recent addition, is a double-double averaging man who can contribute to the core and get them an option for a struggling Marc Gasol.
ADVERTISEMENT
Article continues below this ad
It will be interesting to see how these new additions pan out when they actually play with the new units. So, who do you think has a better shot at winning a series? Nets or Lakers? Help us know in the comments.