Kareem Abdul Jabbar Congratulates Giannis Antetokounmpo's Bucks Trio for Equalizing His NBA Finals Record
Published 07/20/2021, 3:04 AM EDT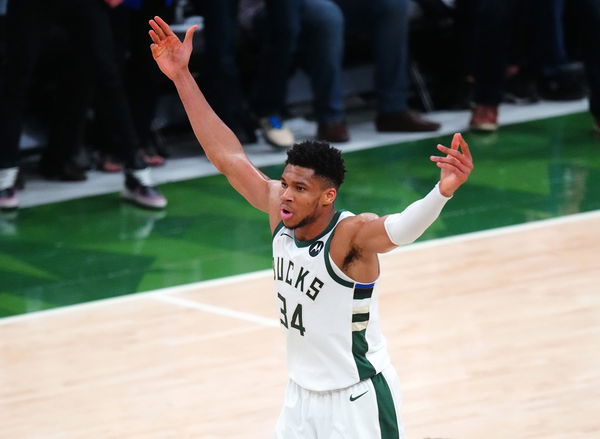 ---
---
Milwaukee Bucks see themselves just 1 home win away from being NBA champions for the first time since 1971. Giannis Antetokounmpo had famously said not to call him the MVP until he wins a championship. Now, he has the chance to bring a championship to the city of Milwaukee.
ADVERTISEMENT
Article continues below this ad
Game 5 was full of drama and excitement. Giannis Antetokounmpo and his men came out on top. However, it was not an easy ride. The trio of Giannis, Jrue Holiday, and Khris Middleton set the floor ablaze as all contributed massively to the win. They combined for 88 of the 123 Bucks' points, all this while shooting over 50% from the field.
Before Game 6 at the Fiserv Forum, Kareem Abdul Jabbar wished luck to Giannis Antetokounmpo and his men for Game 6 and also addressed Giannis matching his record.
ADVERTISEMENT
Article continues below this ad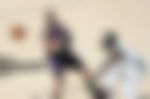 Kareem Abdul Jabbar congratulates Giannis Antetokounmpo and company
The Bucks trio had a historic performance in Game 5. They became only the 5th trio to each score 25+ points while shooting over 50% from the field. Moreover, the last time a trio achieved this was in 1985 with Kareem, Magic Johnson, and James Worthy for the Lakers.
Giannis Antetokounmpo scored 32 points on 61% shooting, Holiday had 27 points on 60% from the field, and Khris Middleton scored 29 points while shooting 52% from the field. They outscored the Suns' trio of Chris Paul, Devin Booker, and DeAndre Ayton.
They have also been great on the defensive end, especially Jrue Holiday. He is averaging 1.8 steals per game, and also had the game-winning steal on Booker in Game 5.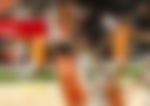 They helped power the Bucks to grab a crucial win on the road. This was only Phoenixs' 3rd road loss in these playoffs. Their other two road losses both came to LA teams. Devin Booker has been sensational, scoring 40 points in back-to-back games now. However, his efforts have not seen the desired end result. Chris Paul made some big shots in clutch time, but they need him to have a big night in Game 6 in order to win.
Milwaukee Bucks now head home for Game 6 with a good chance to wrap up this series.
Can the Bucks' trio step up once again?
While the Bucks' trio came through in Game 5, it is difficult to replicate such a performance. Giannis Antetokounmpo has been the only consistent performer for the Milwaukee Bucks. However, Jrue Holiday and Khris Middleton have been inconsistent throughout the finals.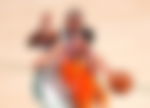 While Middleton has played well in the last 2 games, he couldn't cross the 20 point mark in the previous 2 games. On the other hand, Jrue Holiday has struggled in this series offensively. He has shot over 50% in only 2 of the 5 games so far.
ADVERTISEMENT
Article continues below this ad
Giannis Antetokounmpo has adapted really well to the Phoenix defense as he has spread the floor really well. Through his last 3 games, Giannis has recorded just 2 turnovers while dishing out 20 assists and scoring 99 points. If the trio can somehow put up a similar effort, it will be very hard for Devin Booker and the Suns to defeat Milwaukee, especially because Chris Paul has not been up to his standards.
Who do you think will win Game 6 of the NBA finals? Let us know in the comments.
ADVERTISEMENT
Article continues below this ad
WATCH THIS STORY- Devin Booker's Sensational Game 4 Performance and Other Notable Highlights