Kareem Abdul-Jabbar Pens a Heartfelt Tribute for Iconic Singer Who Was Portrayed by $500M Worth Beyonce on Her Death Anniversary Month: "Articulates Every Feeling.."
Published 01/25/2023, 3:10 PM EST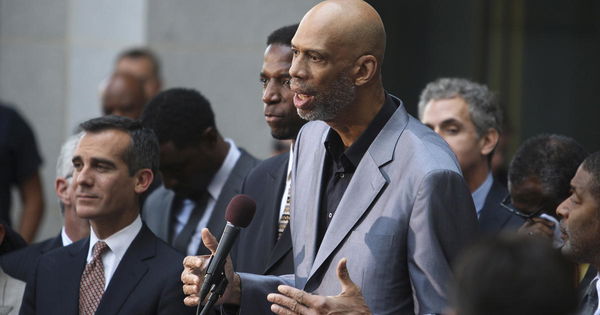 Kareem Abdul-Jabbar is popularly known for being the highest scorer in NBA history. The Los Angeles Lakers legend helped the franchise win six NBA championships under his leadership. Apart from his fierceness on the court, Kareem is famous for speaking up on social issues since his days in the league. The NBA Hall of Famer has continued to express his strong opinions. He speaks up on burning issues on his own internet platform. Moreover, the Lakers legend also expresses his opinions on the latest entertainment productions and pays tribute to legendary Hollywood celebrities. Recently, Kareem Abdul-Jabbar remembered an iconic singer who was portrayed by $500 million worth Beyonce on the occasion of her death anniversary.
Renowned musician Beyonce played the role of legendary music icon Etta James in the 2008 film named Cadillac Records. The film depicts the musical scenes in Chicago from early the 1940s to the late 1960s. It revolves around the life of a record company executive, Leonard Chess. Moreover, the movie is also a biography based on the life of Etta James. Now, after 11 years since the Blues legend's demise, Kareem Abdul-Jabbar recently paid a tribute to James on his blog.
Kareem Abdul-Jabbar reminisces a song from Etta James
ADVERTISEMENT
Article continues below this ad
In a recent update on Kareem Substack, Kareem Abdul-Jabbar remembered Etta James during her death anniversary month. The iconic singer was born in 1938 and unfortunately passed away at the age of 73 in January 2012. The 19-time All-Star pointed out that Etta James was multi-talented and was capable of singing all kinds of genres including jazz, blues, gospel, and rock among others.
Kareem suggested that most people knew Etta James for her song "At Last". However, the Lakers legend seemed to be deeply impressed by James' song "A Sunday King of Love". While talking about the things he liked about the song Kareem Abdul-Jabbar said, "When you listen to "A Sunday Kind of Love" you'll understand why. I know most people know her from "At Last", but I find this song showcases the deep melancholy in her voice and sets all my emotions at alert. She articulates every feeling you've ever had that exists just beyond the words to describe them."
Kareem suggested that Etta James' "A Sunday Kind Of Love" was a perfect example of the popular singer's deeply touching voice. The two-time Finals MVP reckoned that Etta James' song was full of feelings that were hard to describe through words.
ADVERTISEMENT
Article continues below this ad
Thus, the Lakers legend mourned the loss of the legendary music icon while reminiscing about the beauty of her creations. At the same time, Etta James' musical talent also earned her a lot of awards and recognition.
Etta James' musical achievements
Etta James was a master of music who was capable of singing various kinds of genres. She started her career in 1954 and quickly became recognized for her deep and touching voice. However, she also struggled with problems like heroin addiction during her time. Despite the troubles, Etta James secured six Grammy Awards and 19 Blues Music Awards.
ADVERTISEMENT
Article continues below this ad
Watch This Story: Kareem vs LeBron Beef? What Did The Lakers Legend Say About LeBron James?
Moreover, the Blues legend was also inducted into the Rock and Roll Hall of Fame in 2001. Apart from a Grammy lifetime award, Etta James ranked number 22 on Rolling Stone magazine's list of 100 Greatest Singers of All-Time. Thus, Etta James managed to establish herself as a legendary music icon during her long and fruitful journey as a music superstar.
Edited By: Gideon Mathson