Kareem Abdul-Jabbar Tears Apart Billion Dollar League for Siding With "Vindictive Law-Breaking Tyrant", Makes NBA All-Star Comparison
Published 01/25/2023, 2:50 PM EST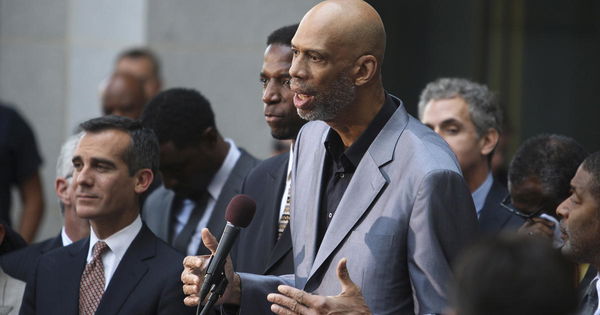 NBA legend Kareem Abdul-Jabbar has recently made some scathing remarks on Florida Governor Ron DeSantis. DeSantis is also a possible Presidential candidate. Ever since his superstardom in college, the six-time champion has been using his massive platform to talk about issues in society to take them to the masses. He has been a civil rights activist for years now and he does not shy away from criticizing politicians. DeSantis has been making the headlines recently for various reasons. Including his office's statement about the NHL.
The NHL is one of the most popular sports leagues in the country. The white majority league has been making efforts to diversify. The league recently scheduled a job fair called "Pathway to Hockey Summit" on Feb. 2 in Fort Lauderdale, Florida. However, the event description received backlash.
Kareem Abdul-Jabbar slammed the NHL commissioner and Ron DeSantis
ADVERTISEMENT
Article continues below this ad
According to a report from Fox News, "Participants must be 18 years of age or older, based in the U.S., and identify as female, Black, Asian/Pacific Islander, Hispanic/Latino, Indigenous, LGBTQIA+, and/or a person with a disability. Veterans are also welcome and encouraged to attend," the event description stated.
Ron DeSantis' office released a statement saying that the event is discriminatory and added the office is fighting discrimination of all types. Then NHL commissioner Gary Bettman announced that the description was a clerical mistake, and the event is open to everyone. Kareem Abdul-Jabbar stated Bettman had a chance to be a better version of himself but missed it. He wrote on his KareemSubstack, "Bettman had that moment—and chose commerce over conscience. He sided with a petty, vindictive, law-breaking tyrant over the principles of the Constitution."
READ MORE – "Suddenly Felt Short": Tony Hawk Bumps Into 7′2″ Tall NBA Legend
ADVERTISEMENT
Article continues below this ad
The Los Angeles Lakers legend suggested the NHL commissioner should not have let himself get bullied. He added the NHL should have canceled the All-Star game to be played in Florida. The Hall of Famer recounted the NBA doing something similar in 2016 when there was discrimination against the LGBTQ+ community in Charlotte.
The state attorney's suspension
Ron DeSantis suspended Florida state attorney Andrew Warren for his position on abortion which caused a huge controversy. Warren appealed the suspension, and the judge ruled DeSantis was wrong for suspending the attorney.
ADVERTISEMENT
Article continues below this ad
WATCH THIS STORY – Not Luka Doncic, but Fellow Mavs Starlet's Sumptuous $600,000 Flex Steals Eyes and Hearts
However, a federal court does not have the power to overturn the suspension. Kareem Abdul-Jabbar recently talked about it as well and slammed the Governor's actions.