Kawhi Leonard's Battle vs Former Team Raptors Was Overshadowed by Camila Cabello and Shawn Mendes' Public Display of Love
Published 05/11/2022, 6:30 PM EDT

Thanks to the insane popularity of the league, the NBA has millions of fans all around the world. Safe to say, this includes celebrities as well. The internet went into a frenzy during one such appearance by a celebrity couple while Kawhi Leonard showed his magic on the court.
Two of the most famous singers in the world, Shawn Mendes and Camila Cabello, attended a game between the Los Angeles Clippers and the Toronto Raptors in 2019.
ADVERTISEMENT
Article continues below this ad
They made headlines worldwide when they publicly displayed their love for each other. Moreover, this made all the headlines, beating the news of Kawhi playing against his former team for the first time.
Kawhi Leonard beaten to the headlines by a celebrity couple
When the Los Angeles Clippers faced the Toronto Raptors back in 2019, there was more than one winner. While Kawhi Leonard got one up over his former team, celebrity singer Shawn Mendes won the battle of headlines.
He has been a long-time fan of the Raptors and has attended their games in the past. Moreover, on this occasion, he decided to attend the game with Camila Cabello.
Rumors about the two dating each other did the rounds of the internet for quite a long time and they let loose during the NBA game. Despite the cameras and the millions of eyes fixated on them, Shawn and Camila displayed their love publicly.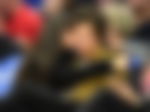 ADVERTISEMENT
Article continues below this ad
While the two won the courtside battle, Kawhi Leonard led the win against his former team on the court. The Clippers defeated the Raptors with a scoreline of 98-88.
WATCH THIS STORY: Will Ja Morant Play In Game 5 of Grizzlies vs Warriors? Injury Update, Lineups and Predictions
Moreover, this was Leonard's first game against his former team, the Toronto Raptors. Although he struggled with his shooting, Kawhi almost recorded a triple-double. He finished the night with 12 points, 11 rebounds, and 9 assists and also recorded 9 turnovers! (Source: ESPN)
ADVERTISEMENT
Article continues below this ad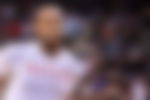 For the uninitiated, Kawhi Leonard led the Raptors to a historic NBA title over the Golden State Warriors the season before. In the finals, he averaged 28.5 points, 9.8 rebounds, and 4.2 assists to win his second finals MVP award.