'KD, Steph & Klay': LeBron James' Sharp Response to Those Labelling Nets Most Offensive Team in NBA History
Published 02/17/2021, 4:30 PM EST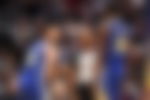 ---
---
LeBron James has been in the NBA for the last 18 years. So, he has witnessed it himself – some of the best guys in the league joining forces to form a super team. In fact, he was the one who ushered in the era of Big 3 while he was with the Miami Heat. And this Thursday night, he will go up against, arguably, the most formidable Big 3 currently in the league, the Brooklyn Nets.
ADVERTISEMENT
Article continues below this ad
Many in the media are already calling James Harden, Kyrie Irving, and Kevin Durant the most offensive trio in the league's history. However, LeBron James is not buying into that.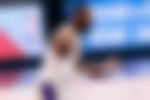 In the aftermath of the Lakers' 112-104 win against the Timberwolves, a reporter asked him if there was any other team in the league's rich history that compares to the Nets' offensive firepower. To this, LeBron offered a quick response –
ADVERTISEMENT
Article continues below this ad
"Have we forgot (forgotten) about KD, Steph, and Klay already!?"
The Los Angeles Lakers forward is aware of what he's talking about here. He, of course, went up against the dominant lineup of the Golden State Warriors. The fact that he could not topple them speaks volumes about the invincibility of that Warriors team.
LeBron James excited to face the Brooklyn Nets challenge
It is a match that we all have been waiting for this season. LeBron is also looking forward to the fresh challenge that the Nets offer with their destructive trio.
"Well, it's always exciting for me to go up against some of the best guys in the game and they got three of them. They got three of them and definitely love to be full when you are playing against a team like that and see you know, like at that point of the season where you match up, how you match up against some of the best teams in the league," said James.
ADVERTISEMENT
Article continues below this ad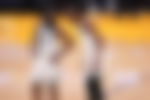 "And obviously, we won't be full on Thursday. But other than that, I love going out there and just being on the floor with some of the best that play this game."
As he said, the only downside of this encounter will be the unavailability of Anthony Davis. Without him, it is not possible to get a clearer picture of which team has their noses ahead. For this one, though, LeBron will need others to step up.
ADVERTISEMENT
Article continues below this ad