"Keep Going Down": Charles Barkley Leaves Shaquille O'Neal and Other NBA Icons in Disbelief With a Direct Jab at The Lakers
Published 01/17/2023, 12:26 AM EST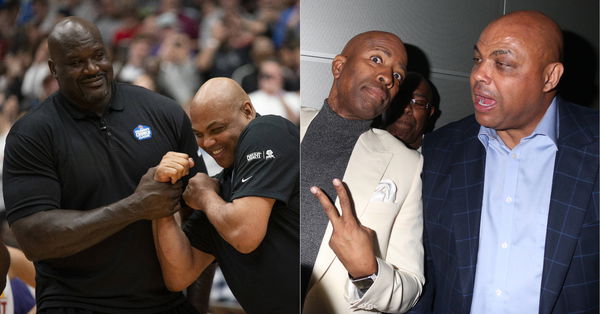 11x NBA All-Star Charles Barkley made a successful career as an NBA analyst after his impressive NBA career. Moreover, the exciting part about his broadcasting career is his humorous approach. Almost every loyal NBA fan would be aware of the on-camera arguments between Shaquille O'Neal and  Barkley. The duo engage in a lot of friendly banter and pranks during the show. Moreover, Barkley also has a reputation to make his honest opinions without any filter. Sometimes, his opinions have cost him his valued friendships. Similarly, in a recent episode of NBA on TNT, Barkley surprised everyone on the panel with his hot take on the Los Angeles Lakers.
The Lakers are currently having a tough outing this season. Notably, they lost two close games consecutively. Moreover, the injuries have majorly impacted the team's performance this season. However, Barkley who recently had a brutal take on the Brooklyn Nets didn't hold back on his take on the Lakers.
Shaquille O'Neal & Co left flabbergasted by Chuck
ADVERTISEMENT
Article continues below this ad
During the recent episode of Inside the NBA, Charles Barkley made a brutal statement about the Lakers team leaving the rest in disbelief. As the current NBA season reached the halfway mark, the panelists analyzed the standings of the team on the points table. While Shaq gave his opinion on the Western Conference points table, Chuck interrupted the Big Man to take a dig at the Lakers. He said, "Keep going down until we finally got them on the screen."  
Kenny Smith, an NBA legend and one of the panelists asked Chuck which team he referred to in his statement. Chuck said, "The Lakers". with a chuckle. The Lakers are currently in the 13th seed of the Western Conference with a (19-24) record.
ADVERTISEMENT
Article continues below this ad
Notably, Shaq led the Lakers to an NBA three-peat between ( 2000-2002). Moreover, this isn't the first time that Chuck took a dig at the Lakers franchise. During a recent show on NBA on TNT, Chuck said, "we must get a bonus every time we talk about the Lakers. The Lakers stink."
Chuck takes a dig at the Nets
In the recent podcast episode of The Steam Room, Chuck commented on the Brooklyn Nets in the wake of a prolonged injury absence. He said, "Brooklyn, they're gonna drop like a rock the next month." As discussed earlier, Chuck puts forward his honest opinions irrespective of the teams. He said that the Nets wouldn't win games without Kevin Durant.
ADVERTISEMENT
Article continues below this ad
Watch This Story –Who Are The Popular Names For This Seasons MVP Race? Kevin Durant, Jimmy Butler & More
What do you make of Chuck's statement? Was he right about the Lakers? Let us know in the comments.
Edited By: Gideon Mathson