'Keep Going': NFL Legend Tom Brady Wishes LeBron James for His Birthday
Published 12/31/2020, 2:29 AM EST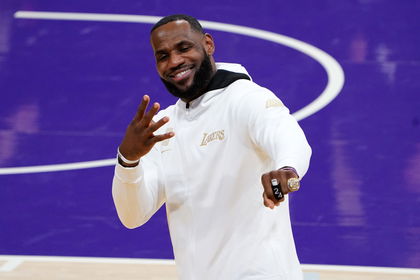 ---
---
LeBron James just celebrated his 36th birthday, and the world joined in to wish him a good one. 'The King' turns 36 and is still one of the best players in the NBA, a challenging feat at his age. In year 18, James still shows no signs of slowing down and has already cemented his status as one of the GOATs of the game. And as it turns out, GOATs recognize each other.
ADVERTISEMENT
Article continues below this ad
Tom Brady wishes LeBron James
Tampa Bay Buccaneers quarterback Tom Brady took to Twitter to wish LeBron James a happy birthday. He wrote, "Happy Birthday @KingJames, 18 years strong here's to many more…keep going!" Brady, much like LeBron James, will know how it feels to be dominant at an older age in your career.
ADVERTISEMENT
Article continues below this ad
Tom Brady, much like LeBron, is considered to be one of the GOATs of football. His longevity and range even at his age is astounding, and sparks comparison with LeBron James. The two have been synonymous with their respective sports for a long time, and their legacies have transcended their sport sports. It was great seeing two of the greatest recognize each other for what they've done.
LeBron and Brady: Real recognizes real
LeBron James rang in his 36th birthday with a win over the San Antonio Spurs. The win marks the end of a fantastic 2020 for LeBron, who won his fourth NBA Championship this year, and his first with the Los Angeles Lakers. James was fantastic throughout the NBA playoffs this year, stepping up from his regular-season performances.
ADVERTISEMENT
Article continues below this ad
During the NBA Finals, James was the leading force for the Lakers as they beat his former team Miami Heat in six games. James became the first player to win a Finals MVP with three different franchises, adding to his already-stacked legacy. For James, the Lakers' championship was a vindication of everything he is.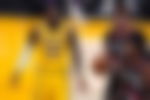 For the longest time, the biggest question mark over LeBron's legacy was whether he could win an NBA championship out of the tougher Western Conference. Prior to joining the Lakers in 2018, LeBron had only played in the Eastern Conference, and many believed that he could not win a championship in the West. But James silenced those critics with his 2020 championship ring.
ADVERTISEMENT
Article continues below this ad
But LeBron James will not be satisfied with four rings. He has started the new season with the Lakers on a hunt for another championship and will do everything in his power to get them that ring. It remains to be seen how LeBron will do in year 18 of his NBA career. The Lakers are presently the favorites to win the NBA championship again.