'Keep Me on Edge': Hornets' Terry Rozier Describes What it's Like to Play Under Michael Jordan
Published 02/26/2021, 9:30 PM EST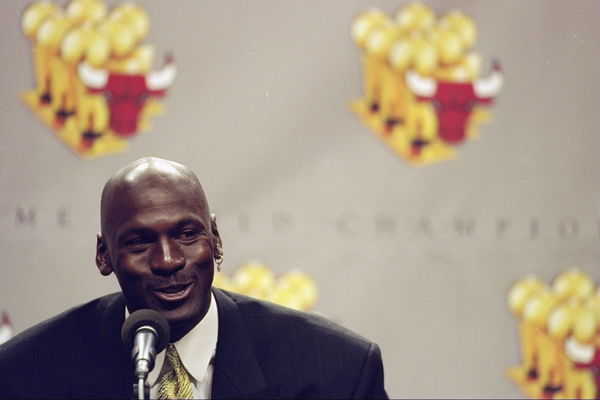 ---
---
For one very pertinent reason, every basketball fan has plenty of hopes from the Charlotte Hornets. There are many NBA teams that are pretty good but have never won a Championship. But when the team belongs to the GOAT, one can't help but have some expectations. It is all but obvious that playing for Michael Jordan must have its perks.
ADVERTISEMENT
Article continues below this ad
So, Terry Rozier, who joined the Hornets in the summer of 2019, replacing Kemba Walker, explained exactly what it is like to have Jordan as his boss.
Michael Jordan is just a call away
ADVERTISEMENT
Article continues below this ad
Rozier came into the limelight a few days ago for his stellar night against the Golden State Warriors. Not only was he the top scorer in the matchup, but he also hit the game-winner with 42 seconds left on the clock that gave them the decisive two-point lead.
In fact, the Hornets are about to face the Warriors once again, and all anyone can think about is if the Hornets can pull off another victory.
That aside, every fan is curious to know how Jordan is like as a mentor, so far removed from his playing days. Thus, in an interview, Terry tried to put that question to rest.
"Man, it's been great," he said. "I remember the first time sitting down with him in Vegas at lunch. He was just telling me how he believes in me. Hearing that from MJ, that's different than anybody else."
"He gave me that confidence right away when I first stepped on to Charlotte," Terry went on. "He is a great boss, a great mentor. I am pretty sure he keeps in touch with all of us. But with me, I can hit him at any time. He's going to challenge me and I am just glad to have him as a contact, just to talk to. Because he's the guy who is always going to challenge me and keep me on edge." What Terry Rozier brings to the table for Charlotte Hornets
When asked whether he shoots some hoops with the team, Terry denied it. But he joked about how the team should talk him into coming out of retirement.
In one season and a half, Rozier has showcased remarkable talent. While most thought the Charlotte Hornets were settling for somebody close enough to Walker, he has proved everyone wrong.
He may not be as entertaining as their rookie LaMelo Ball. Neither is he the leader of the team like Gordon Hayward. But it's his mentality and toughness that sets him apart.
ADVERTISEMENT
Article continues below this ad
His ability to impact both ends of the court shows his versatility and makes him every bit of the competitor Kemba Walker was. Averaging 20 points a game, his contribution is making the Hornets look like playoff contenders this season. Do you think Charlotte will be able to secure a place in the playoffs finally after 4 long years?
Read also- Why did Michael Jordan Buy The Charlotte Hornets? Price, Estimated Worth and More
ADVERTISEMENT
Article continues below this ad