Kendall Jenner 'Third Wheeled' Hailey and Justin Bieber During Devin Booker's Game vs LeBron James' Lakers
Published 05/24/2022, 7:00 PM EDT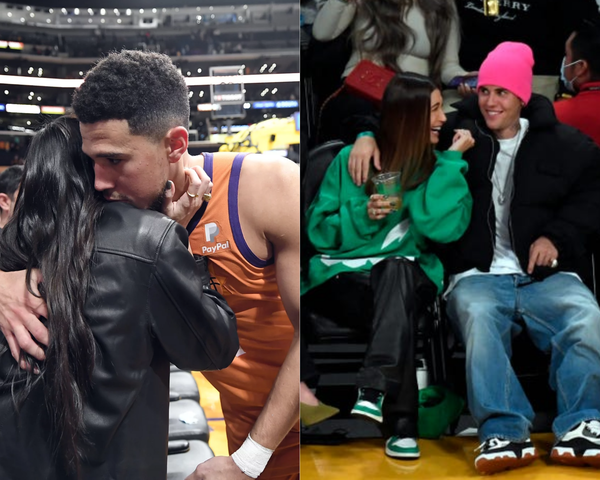 Hollywood stars have often shown love for the NBA. Many stars have publicly supported their favorite teams. Hollywood stars have often attended NBA games on the sidelines and have grabbed the attention. One such example was when music sensation Justin Bieber and his wife Hailey attended Phoenix Suns' game with Kendall Jenner, who was there to support her boyfriend Devin Booker.
In 2021, it was date night for Hailey and Justin Bieber and they spent it at the Staples Center in Los Angeles watching the LA Lakers facing off against the Phoenix Suns. Smiling, laughing, and kissing, the young couple were having the time of their life at the courtside seats.
Hailey and Justin were joined by Kendall Jenner, who was a bit of a third wheel until the game was over. After the game, Devin Booker joined Kendall and the star couple had a rare moment of embracing each other.
ADVERTISEMENT
Article continues below this ad
Devin Booker celebrated the victory for his Suns side on the road beating the home team Los Angeles Lakers. 
It was LeBron James who led the scoring in the game. However, it was Devin Booker's Suns who emerged victorious.
Recap of Devin Booker vs LeBron James in Suns victory
October 22, 2021, saw Phoenix Suns visiting Los Angeles Lakers and coming back with a victory. The Suns won 115-105 over the Lakers. The game was close as the lead changed 6 times and tied 4 times. The game was set up for Devin Booker and LeBron James to shine, but in fact, Chris Paul stole the limelight with a record-breaking performance.
ADVERTISEMENT
Article continues below this ad
Chris Paul scored his 20,000th career point on the way to 23 points and 14 assists. Booker added 14 points in the Phoenix Suns' 115-105 victory over the winless Lakers on Friday night. The Lakers were incapable of defending Paul.
WATCH THIS STORY: Hidden meaning behind Chris Paul's jersey number.
ADVERTISEMENT
Article continues below this ad
Unfortunately, they could not formulate any effective offensive plays for long stretches of the game. The Lakers dropped to 0-2 in the season. But they lit up social media when Davis and Howard had a confrontation in the bench area during a first-half timeout.
Paul became the first player in NBA history to pair 20,000 points with 10,000 career assists. There was a lot going on in and around the game. From Hailey and Justin Bieber showing affection to each other, to AD and Howard's confrontation, to CP3 creating history, and finally a rare Devin-Kendall moment. The day of multiple events in the NBA.
Edited By: Arunaditya Aima