Kendrick Perkins Echoes Vanessa Bryant & Kyrie Irving for a Possible Logo Change to Kobe Bryant
Published 02/27/2021, 4:30 PM EST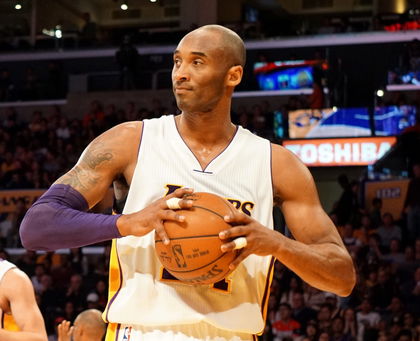 ---
---
For the last two days, the NBA community has been absolutely buzzing about a probable change of the NBA logo. Much of it has been because of a recent Instagram post by Brooklyn Nets' superstar Kyrie Irving, who proposed the NBA logo to be changed to a silhouette of the late Kobe Bryant.
ADVERTISEMENT
Article continues below this ad
Fans all around the world have chimed in on Kyrie's initiative, with even Lakers' owner Jeanie Buss and Kobe's wife, Vanessa Bryant, coming out in his support.
Kendrick Perkins opens about the league logo change to Kobe Bryant
ADVERTISEMENT
Article continues below this ad
Former NBA champion and analyst Kendrick Perkins, in a recent episode of the 'First Take', explained why the league should consider changing its logo. He said,
"The NBA logo is a symbol, okay? It's a damn representation. Kobe Bryant, breathed, ate and slept, the game of basketball. There is no better representation than the Kobe Bryant logo, Mamba mentality.
"Think about it having that logo on these players jerseys socks every night is a reminder of what they have to go out there and do every single night and leave it on the court because tomorrow is not promised. Kobe Bryant was an icon. Kobe Bryant set the tone."
The NBA logo is a symbol. Kobe is an icon and the Mamba mentality is the mindset that evert player in the league should have because tomorrow isn't promised!

He should be the logo, no doubt about it! Carry on… pic.twitter.com/BWJmeQy9BU

— Kendrick Perkins (@KendrickPerkins) February 26, 2021
He added, "Kobe Bryant opened the doors for so many others. He was a mentor and his life after basketball was starting to be better than probably his career on the court. And that said a lot. No current player would object to Kobe Bryant being the logo including Michael Jordan.
"Michael Jordan spoke at Kobe Bryant's funeral and he said 'When Kobe died, a piece of me died as well'. Right? So what I'm saying is, I am with Kyrie on this. Let's honor this man, he deserved it, put Kobe as the logo and no one would have no complaints whatsoever. Mamba mentality."
Why the NBA should consider changing its logo
The NBA hasn't seen a major change in its logo since the 1969, when they formed the popular Jerry West silhouette logo.
But West is certainly not stoked about the same. In a 2017 appearance at ESPN's The Jump, the Laker great went on record and said he wasn't the biggest fan of being the logo.
He said, "There were five people that they were going to consider, and I didn't find out about it until the late commissioner [J. Walter Kennedy] told me about it. Again, it's flattering. But if I were the NBA, I would be embarrassed about it. I really would."
ADVERTISEMENT
Article continues below this ad
He also revealed that he was open about a possible change. "I don't like to do anything to call attention to myself, and when people [call him The Logo], that's just not who I am, period. If they would want to change it, I wish they would. In many ways I wish they would."
Considering that Mr. Logo doesn't mind a change, the NBA should consider changing its logo now. It will also be the perfect tribute for Kobe, who will be immortalized.
ADVERTISEMENT
Article continues below this ad
Do you think the NBA will change its logo to Kobe Bryant?