"Own That Shaqtin a Fool Legend": Former Teammates Go Head to Head as "Sensitive" Reactions for a "Damn Joke" Create Havoc
Published 12/27/2022, 10:50 AM EST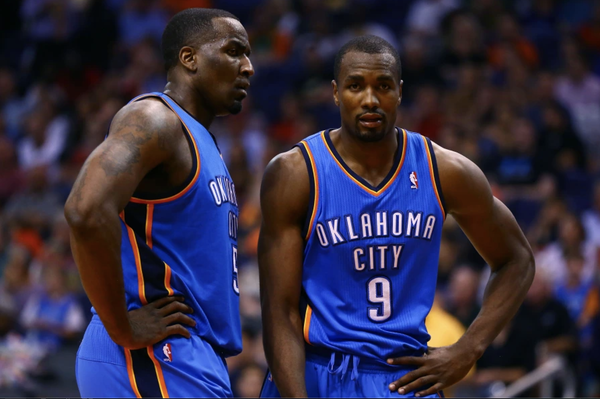 On ESPN's First Take, Kendrick Perkins recently recounted the days he spent with the Oklahoma City Thunder. While doing so, the NBA Champion commented on his former teammate Serge Ibaka's age. He seemingly accused the current Bucks' forward of lying about his real age. This comment didn't sit well with Ibaka as he responded on Twitter with a barrage of tweets. Ibaka stated that Perkins, who is known to criticize players on the show, had taken it too far this time. The former Raptors star also accused his former teammate of breaking the locker room rules.
Ibaka's response didn't go unnoticed as Perkins replied immediately. The former NBA Center claimed that his comments to be a joke. He wrote, "Bro it was damn joke. Stop being so damn sensitive". While this whole debacle caused havoc, Ibaka saw support coming from fans across the NBA community.
ADVERTISEMENT
Article continues below this ad
NBA Fans voice out their support for Serge Ibaka
Fans were excited that Ibaka was standing up for himself and speaking against whose views and antics many didn't appreciate. Incidentally, as reported by Sports Illustrated, Perkins hinted on ESPN's First Take that Ibaka had at one point in time lied about his real age. "Everybody kept saying, 'Oh, Kevin Durant is only 23 years of age. Russell Westbrook is only 22, James Harden is 22, Serge Ibaka is 21—although he was probably 30 at the time because we already know how certain individuals lie about their age," said the former Celtics star.
Bro it was damn joke. Stop being so damn sensitive.

— Kendrick Perkins (@KendrickPerkins) December 26, 2022
Meanwhile, fans also backed Ibaka when Perkins dismissed his comment as a mere joke. Fans claimed that Perkins' tone and body language indicated that he was being serious. Additionally, they stated that the comment was unnecessary for it could have harmed Ibaka's employment. While calling Perkins a bad analyst, fans also addressed his harmful remarks on live TV. Here are some of the reactions:
Own his ass, Serge. Own that shaqtin a fool legend lol.

— AJ Gonzalez (@AJontheguitar) December 26, 2022
To be fair to Ibaka, Kendrick wasn't laughing when he said that. He now says he was joking but I'm not sure i believe him

— Otafumi (@percentcrumpet) December 26, 2022
Serge is well within his right on this one & his comments are well written and thought out.

Perkins may say it's a joke but this type of joke affects Serge's employment and also negatively affects employment of others as he mentioned.

— Pasha Bains (@DRIVEBasketball) December 26, 2022
This is allll he does as a BAD analyst… it's pathetic because he was once a player.. he's always projecting

— (Raquel) KB💜💛 (@SOULbeautifulme) December 26, 2022
ESPN so much better when Kendrick Perkins is nowhere to be found

— Corey350 (@Corey_350) December 26, 2022
The on-going feud
In a series of tweets, Ibaka remarked that his former teammate was being disrespectful. He added that he was disappointed to see someone he shared a locker room with make such career-damaging claims. Following this, Ibaka also accused Perkins of lying all the time.
ADVERTISEMENT
Article continues below this ad
He stated that he wasn't an ideal leader or teammate as he spoke ill of Kevin Durant and Russell Westbrook behind their backs. Ibaka then focused on Perkins' job of analyzing and criticizing. He declared that the ex-NBA Champion did his job without class and dignity.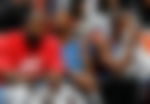 The beef didn't end there. Kendrick Perkins instantly responded to the locker room claims. In a rather cryptic tweet, he asked Ibaka to remain silent. He wrote, "Please don't get me started homie!! Please don't. I'm not about to talk about those OKC days and what you were doing in that locker room." The Milwaukee Bucks star is yet to respond to this tweet.
ADVERTISEMENT
Article continues below this ad
Watch this story: Fresh $4 Billion Soup Surrounds 41-Year-Old Serena Williams and NBA Star Stephen Curry After a 'Staggering Losses' Claim
Has Kendrick Perkins crossed the line? Let us know in the comments below.
Edited By: Satagni Sikder