Kevin Durant Continues His Banter With Fans Amid Time Off from NBA
Published 03/29/2021, 12:40 PM EDT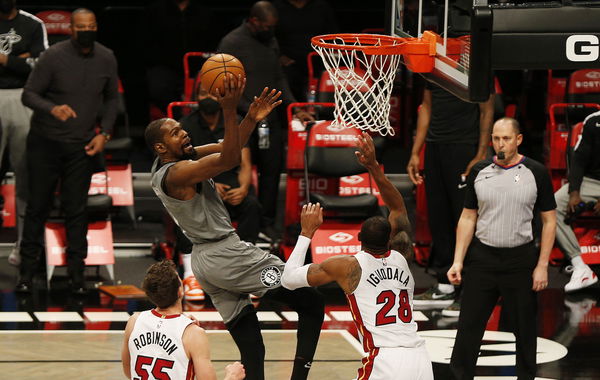 ---
---
Kevin Durant loves to be on Twitter. Not many have forgotten the burner account scandal that hit KD a few years ago when he was caught having unnamed accounts on Twitter. While that is something many athletes do, KD is one of the few NBA players to actually be caught doing that.
ADVERTISEMENT
Article continues below this ad
However, KD is embracing not caring. While the burner account issue happened in the past, Durant is happy addressing haters and trolls from his main account. This has caused many to tell him not to interact with haters on Twitter, including one user who decided to do so by asking KD for free shoes and merchandise, which promptly got him blocked.
KD's business partner responded to the person that made that tweet with a video, to which KD added a hilarious video as well.
ADVERTISEMENT
Article continues below this ad
Durant loves Twitter and has become a lot more light-hearted on the platform. He is genuinely engaging with trolls and not being as confrontational as he used to be before. However, it would get under anyone's nerves if someone tells them how to operate on Twitter while also asking the same person for free merchandise. What was that guy thinking?
Kevin Durant: Social media sensation?
ADVERTISEMENT
Article continues below this ad
Kevin Durant Twitter notifications should be turned on for every NBA fan right now. He is currently out injured and has the time to engage with these trolls. Most players stay off social media while actively competing. Durant wasn't as active on Twitter prior to him spending time off this season.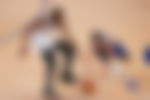 His interactions with trolls are comedic. Along with that, he is spawning more interesting arguments between his fans over his erratic Twitter behavior. KD is one of the best basketball players in the world, his Twitter shouldn't be such a concern to everyone. However, it has become one and is now spawning genuine entertainment for many.
ADVERTISEMENT
Article continues below this ad
Hopefully, Durant is recovering from his latest injury well. While the battlefields on Twitter are fun to sit through, everyone is just waiting for him to return to the battlefield that is a basketball court. With his Nets loading up, it will be interesting to see how this plays out.