Kevin Durant, Draymond Green and Klay Thompson Were Once Left Overwhelmed By Swimming Legends Michael Phelps and Katie Ledecky
Published 06/29/2022, 5:30 PM EDT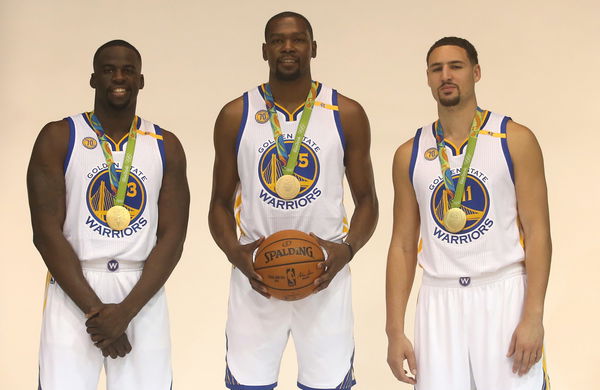 Kevin Durant, Draymond Green, and Klay Thompson played a huge role in the success of the Golden State Warriors dynasty along with Stephen Curry. They won two successive titles in 2017 and 2018 and were, by a distance, the best team in the league. Before that, though, Durant was still playing for a promising OKC Thunder team. Draymond and Klay were already title winners in 2015. But in 2016, they lost to a determined LeBron James-led Cleveland Cavaliers.
ADVERTISEMENT
Article continues below this ad
In 2016, they all teamed up for the Rio Olympics. It was a night that could not have been missed as Michael Phelps and Katie Ledecky were aiming for the top prize. The USA Men's Basketball team intended to make the most of its visit to Rio. And they were in attendance to witness greatness.
One of the greatest things about the Olympics is watching athletes from several sports come together to support Team USA, and this was the finest demonstration of that.
ADVERTISEMENT
Article continues below this ad
Katie Ledecky competed in the 200-meter freestyle and won gold. It was a huge success with Draymond Green and Kevin Durant. They all posted pictures and stories from that event. Additionally,  Durant found some time to take a selfie with the swimmer Amanda Weir in the stands.
It was time for the main event. Phelps was coming out for the 200-meter freestyle final. After the American won his 20th medal, they cheered wildly along with the rest of the crowd. All the NBA stars and the gold medallists celebrated with each other in the end.
Kevin Durant was the man for Team USA in 2016
The United States team of 2016 had stars like Draymond, Durant, Thompson, Jimmy Butler, and others. They were a far more stacked team than any of their competitors.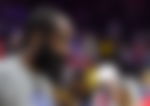 ADVERTISEMENT
Article continues below this ad
They swept the group stage. In the quarters, they beat Argentina 105-78 with Durant scoring 27 and assisting six buckets. The US Team then beat a Pau Gasol-led Spanish team 76-82 in the semi-finals. Thompson scored 22 and had 3 assists.
In the gold medal game, the United States blew out Serbia 66-96. Durant gave us a glimpse of what was to come by scoring 30 points in the game.
ADVERTISEMENT
Article continues below this ad
Watch This Story: Stephen Currys Lookalike daughter Riley Curry: All you need to know about her
They won the gold pretty handily. Durant was the man of the hour as he scored almost 20 points a game in the tournament. After that, he took his talents to Golden State, and the rest was history.
Edited By: Bagavathi Eswaran