Kevin Durant Encourages More Vibrant Support From NBA Fans With a Bizarre Idea: "Bring a Flare to an NBA Game"
Published 05/05/2022, 2:29 PM EDT
The Brooklyn Nets' elimination from the NBA playoffs has done little to eliminate Kevin Durant from social media. The star is a constant fixture on Twitter, often engaging with fans. Sometimes it is a unique argument, and sometimes a random reply to someone online.
More often than not, Durant is just trying to prove his point.
ADVERTISEMENT
Article continues below this ad
This time around, Durant seemed to have an interesting idea, one he shared with fans. While certain ideas are always welcome, some fail to meet the mark. Durant's most recent tweet hinted at a possible revamp for the NBA fans, who were compared to the EuroLeague.
Kevin Durant wants fans to change it up a bit at NBA games
To those unaware, Durant is currently in Greece for the EuroLeague. His friend Mike James plays for Monaco, and Durant was there to show his support.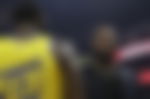 While many factors were involved, one cannot disagree over the obvious, a vastly different environment. Durant's own tweet about the celebration was a stark contrast to the NBA, as colors took over the entire area. Not only was the energy different, but it also felt more happening with people carrying flares in their hands.
Fans in turn asked Durant about NBA, and how they would like to see their fanbase against the EuroLeague.
Durant's response was bizarre, the Nets star proposing a weird idea to fans. As per the two-time NBA Champion, fans attending an NBA game should use a flare. While that might be possible in American arenas, it would certainly create a different vibe altogether. Not only are the fans tougher, it ends up being a tough environment for players as well.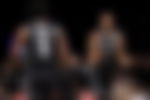 Was KD welcomed in Greece?
ADVERTISEMENT
Article continues below this ad
Overall, Durant did not receive a warm welcome in Greece. He was booed by Olympiacos fans at their stadium, as he was there to support a friend in the opposition. The Olympiacos even beat Monaco 94-88, further aggravating the stadium filled with fans.
WATCH THIS STORY: Michael Jordan and LeBron James Finally Meet In The Finals But Its Not For Basketball, Its For Tequila
While Durant was supporting someone else, he could not help but marvel at the spectacle the fans put up. The happiness felt addictive and was well translated through one clip shared by Durant.
ADVERTISEMENT
Article continues below this ad
Would you like to attend an EuroLeague game? If yes, which team? Let us know in the comments below.