Kevin Durant Has a Hilarious Description on How James Harden Started to Fit in Nets
Published 01/27/2021, 11:30 AM EST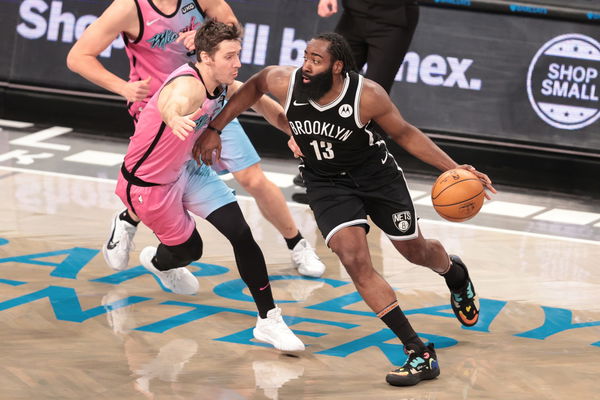 ---
---
The Brooklyn Nets' big three of James Harden, Kyrie Irving and Kevin Durant finally are starting to finally their groove as they defeated the Eastern Conference champions Miami Heat twice in a row.
ADVERTISEMENT
Article continues below this ad
The surprising thing so far, however, has been the way their new addition, James Harden, has performed. Harden, who was the primary scorer in the Rockets, has seen a sharp decline in his numbers for the Nets.
He has become more of a facilitator of the ball, averaging 11.3 assists per game in the six games he has played. In their last game against the Heat, with Irving and Durant struggling, Harden carried the Nets over the line against the Heat with his offensive prowess.
ADVERTISEMENT
Article continues below this ad
In the post game press conference, teammate Kevin Durant appreciated his new teammate. He said that 'The Beard' had the 'perfect balance' of scoring and facilitating.
When asked about how he feels about Harden adjusting to the system, KD said, "Feels like he just transferred to a new school and he's trying to figure out the curriculum. And it's going to take some time to figure out who your teammates are, what your rotations are in the game, when to be aggressive, when to score, pass."
He added, "As a scorer and the focal point of your offense, sometimes the balance between score and pass — you got to figure that out each night."
Is James Harden ready to become the facilitator for the Nets?
When Kyrie Irving had not returned and Harden and Durant has played two games, many critics suggested that Kyrie was going to be the star who will see a decrease in his production and will support Harden and Durant.
For now, it hasn't been the case. With Harden taking care of facilitating the ball, the Nets have seen Kevin Durant and Kyrie Irving take over games, at least in the scoring end.
ADVERTISEMENT
Article continues below this ad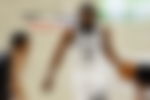 Given the prolific numbers Harden averaged, it seems uncharacteristic for him to take a step back in scoring end, but it might end up helping them because of the jump. This might be key for this trio to work. Both Durant and Irving are efficient ball handlers, but also have experience of playing off the ball.
With Harden having the ball in his hand, he will be double teamed multiple times due to his offensive prowess. This results in Irving and Durant getting easy buckets. The 32-year-old knows that this might be his last chance to clinch the title and is ready to do anything to finally add the championship to his decorated resume.
ADVERTISEMENT
Article continues below this ad
If he continues his brilliant run of form, the Nets might be seeing a cohesive offense soon. If they do, they will have a real chance to defeat the champions' LA Lakers.