Kevin Durant Seemingly Throws Shade at LeBron James as Fans Are Left Scratching Their Heads: "What Was He Even Tryna Say?"
Published 03/11/2023, 11:34 AM EST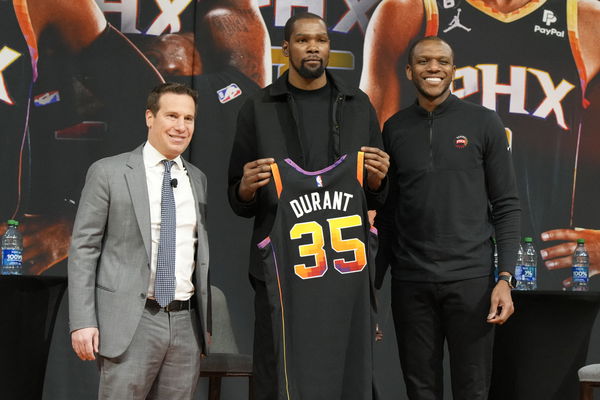 The 2022-23 NBA season has taken a sharp turn for the better, especially for fans. The teams have stepped up, with the trades before the deadline being an important reason behind such performances. The Western Conference is stacked with potential, especially after players like Kevin Durant and Kyrie Irving were traded to the Phoenix Suns and the Dallas Mavericks, respectively. KD's move to the Suns has caused a stir in the NBA and there is constant chatter about the move even a month later.
The new Sun took to Twitter to give his two cents on a related matter. However, fans were left confused when the Suns' star hit back at a troll who compared Durant and LeBron James.
Durant's move to Phoenix
ADVERTISEMENT
Article continues below this ad
The Brooklyn Nets were in much better shape than last season, according to their game. But the team was getting affected by chatter off the court. The season started with Kyrie Irving's infamous controversy that attracted a lot of baggage for the team. However, they steadied their ship as they moved forward.
Watch This Story: Kevin Durant Joining the Suns and Russell Westbrook Leaving the Lakers 2 Trades Shaking Up the NBA World
Durant was himself very appreciative of the coach, and even mentioned how he was more comfortable with head coach Jacque Vaughn than the last year's choice, Steve Nash. Additionally, KD could see the hunger that drove the team forward.
Despite all the positive signs moving forward, something felt off for everyone as Kyrie Irving was shipped off to the Dallas Mavericks. Soon after, KD was involved in a trade with the Phoenix Suns to team up with Devin Booker and Chris Paul. The particular reasons behind his trade request were unclear as it happened at midnight on the trade deadline day. However, his decision under mysterious circumstances is not unprecedented, as the fans could recall a similar situation when he departed the Golden State Warriors.
As for the Suns, they could ask for nothing more. A KD, Booker, and CP3 trio could be the franchise's genuine shot at their maiden NBA title. It was something that even Durant acknowledged during his first press conference for his new team.
The fans are on the same boat, as many consider this a cheat code to success. Recently, some fans have let their thoughts be known to the public, even trolling KD while comparing his career to LeBron James. However, in this instance, KD decided to clap back, but in a rather confusing way as fans were left scratching their heads.
Fans react to confusing reply by Kevin Durant
Recently, a fan decided to metaphorically compare King James and KD's careers in terms of luxury cars. KD was having none of it as he tried to shut down his haters, but it was met with a rather puzzled reaction.
Here are the reactions
What was he even tryna say? 😂

— Ryan🇵🇷 (RyTheBasketballGuy) (@Roddy_94) March 11, 2023
Lmao I still don't know what he's trying to imply frfr. Because it can't possibly be that he's the one that made the Warriors and Suns elite teams lol. He makes em better bc he KD, but he still asks to join teams when they're already elite. THAT is the point & its unarguable lmao

— King Q (@qshironalbertie) March 11, 2023
ADVERTISEMENT
Article continues below this ad
He really typed that out, read it, read it again and said "yeah that's a hit".

— Shanice Johnson (@KingsEnthusiast) March 11, 2023
ADVERTISEMENT
Article continues below this ad
What are your thoughts on the comment made by Kevin Durant? Let us know your views!