"I'm Such a Hater": Kevin Durant Once Revealed Jealousy for Fellow Players Including Stephen Curry and LeBron James in Brutally Honest Take
Published 11/18/2022, 6:45 PM EST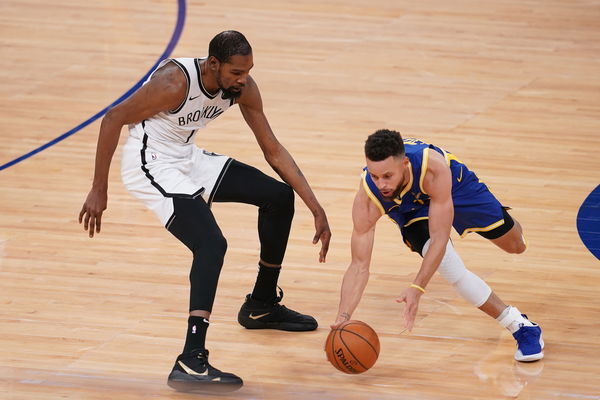 Kevin Durant is among the greatest modern athletes in the NBA. The two-time NBA champ is known for his ruthless game as he shows his skills on both sides of the court. However, Durant was considered a nice person initially in the league, with critics claiming his harmlessness was the reason behind the lack of championships. However, back in 2015, Durant uttered some scathing words that might depict an immense dislike for fellow players and competitors, like Stephen Curry and LeBron James.
ADVERTISEMENT
Article continues below this ad
Kevin Durant was the second overall pick in the 2007 NBA draft. After several seasons with the Oklahoma City Thunder, KD moved to the Golden State Warriors in 2016 alongside Stephen Curry. The duo won two back-to-back championships for the Warriors in 2017 and 2018. However, Durant left Curry's team to establish a name for himself as he joined the Nets in 2019.
ADVERTISEMENT
Article continues below this ad
Kevin Durant expressed his hatred for fellow players in a 2015 interview
During a 2015 interview, Kevin Durant shared that he became a completely different person on the basketball court. He did not care to give a helping hand to his fallen opponents. The 12-time All-Star stated that the basketball court felt like a war zone to him. Moreover, Durant revealed that he hardly watched basketball when he was not playing on the court. 
KD suggested that he did not like other teams or players very much. He felt like watching his opponents' games was like supporting them. Instead, he hoped that they had a bad game.
Further, Durant said, "Because I'm such a hater! I thought it was a bad trait I had, I was like, Man, am I jealous? Why do I hate this guy? But I hope both the teams lose! That's how I feel."
It was surprising to see KD admit that he had no love in his heart for his opponents. Moreover, the two-time finals MVP's words might have showcased his feelings for some of his fiercest competitors in the league, fellow superstars Stephen Curry and LeBron James.
Can Durant help the Brooklyn Nets win this season?
ADVERTISEMENT
Article continues below this ad
Durant has had a brilliant start to yet another season. In 16 appearances, KD has scored an average of 30.6 points, 6.6 rebounds, 5.2 assists, and 1.8 blocks per game. The 2014 MVP has put up some dominating numbers early in the season.
However, the Brooklyn Nets are going through a bit of struggle in the absence of their guard Kyrie Irving. The Nets have won seven games and lost nine so far.
ADVERTISEMENT
Article continues below this ad
WATCH THIS STORY: LeBron James floored by Kevin Durant ending a man's career with his iconic move during Nets vs Wizards
Thus, Durant might need support to lead the Nets close to the championship this season and have a legitimate chance at winning. Hopefully, Irving will return to the team to support KD soon.
Edited By: Satagni Sikder