Kevin Hart Gets Ridiculed for His Defensive Pick by LeBron James' Teammate: "Just Saying That Cause He's from Philly"
Published 12/31/2022, 2:10 PM EST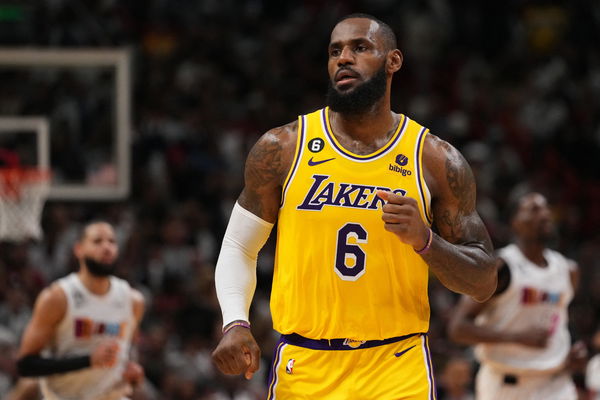 Everyone has a different opinion when it comes to choosing the best player in basketball, satisfying a certain metric. Sports fans love a good debate where they can point out why they love a particular player. However, when an athlete comments on the skills of a fellow athlete, it sometimes may turn into a controversy or at the very least least, can turn a few heads. In the latest episode of Kevin Hart's podcast, one of LeBron James' teammates attracted eyeballs by calling out the popular comedian regarding a Miami Heat player.
The latest episode of Kevin Hart's podcast had Los Angeles Lakers star Patrick Beverley as the guest star. The duo soon started butting heads while talking about the best defensive point guards in the league.
Patrick Beverley calls out Kevin Hart for his claims
ADVERTISEMENT
Article continues below this ad
Los Angeles Lakers point guard Patrick Beverley has never backed down from letting his opinions known. In the latest episode of Kevin Hart's Cold As Balls show on LOL Network, Hart asked Beverley who his inspiration was when he began working towards being one of the best defenders in the league. Before Beverley named anyone, Hart stated that Miami Heat star Kyle Lowry was a great defender for a guard. However, Beverley had a different opinion about that.
The 2017 NBA All-Defensive First Team player said, "Defends okay. You're just saying that because he's from Philly." When Hart tried to contest his viewpoint, saying Lowry is a strong guard, Pat Bev simply replied, "No he's not."
After discounting Kyle Lowry as a good defensive point guard, Beverley listed Jrue Holiday and Marcus Smart as great defenders in the point guard position. While Beverley, who is a three-time All-Defensive player, is no doubt one of the best defenders, Lowry's Miami Heat has been doing well as well on the defensive front, with a rating of 111.4.
Pat Bev praised Lakers teammate LeBron James
Before Patrick Beverley signed with the Los Angeles Lakers, he had previously named LeBron James as the NBA superstar he would like to play with someday. LeBron and Pat Bev have faced each other several times on the court, especially when Beverley played for the Los Angeles Clippers. The Clippers vs Lakers games have always been intense, so it was assumed that there was some kind of animosity between King James and Pat Bev.
ADVERTISEMENT
Article continues below this ad
However, after Beverley joined the Lakers, he had nothing but praises for the four-time NBA champion.
WATCH THIS STORY: Amid a rumored selling spree the most valuable NBA franchises including the warriors and lakers
ADVERTISEMENT
Article continues below this ad
"We've been knowing each other for a very, very, very long time. It's not like he makes you feel small or anything. He's always giving advice, open, funny," Beverley said in the first episode of The Pat Bev Podcast with Rone.
Edited By: Satagni Sikder