Khloe Kardashian's Ex-husband Puts LeBron James and Kyrie Irving on Same Level as Michael Jordan and Scottie Pippen
Published 05/22/2022, 1:30 PM EDT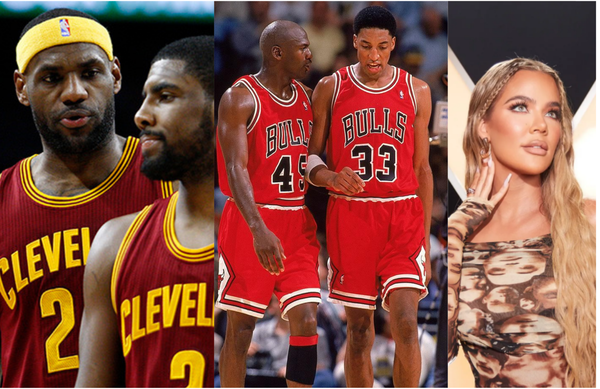 LeBron James and Kyrie Irving are one of the best duos to ever play in the NBA. Though their tenure was not as long, it was surely great. There have been some iconic duos in NBA history, but not many can compare to how LeBron and Kyrie dominated in the modern era of basketball.
Meanwhile, Michael Jordan and Scottie Pippen, the duo which shined in the 90s, are considered the greatest duo of all time.
ADVERTISEMENT
Article continues below this ad
After MJ and Pippen followed Kobe Bryant and Shaquille O'Neal, who went on to win a three-peat. Though a former Cavs player has a different opinion regarding the best duo.
Is LeBron-Kyrie's duo better than Michael Jordan and Scottie Pippen?
Khloe Kardashian's ex-husband, Tristan Thompson, who played alongside LeBron James for 4 years, believes that LeBron and Kyrie's duo is among the MJ and Pippen tier. Kyrie and LeBron played 3 Finals in a row versus the Warriors winning 1 of the 3.
WATCH THIS STORY: Stephen Currys Off-Court Earnings Breakdown: Ranking his best investments
Michael Jordan and Scottie Pippen won 6 championships together and completed 2 three-peats. Kobe and Shaq, on the other hand, won 3 rings.
Kyrie left Cleveland after the 2016-17 season, leaving LeBron on his own. In the 2017-18 season, the Cavs added Dwayne Wade, Derrick Rose, and other great veterans on the team, but ended up trading all of them in the middle of the season. Even after such ups and downs, LeBron managed to lead the team to the Finals against the Warriors.
ADVERTISEMENT
Article continues below this ad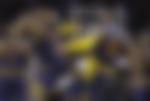 Irving and LeBron could've won a few more rings had they played longer together. They were definitely a top-tier duo, though were unsuccessful when they faced the greatest super-team in the Finals in 2017. The highlight of this duo was the 2016 Finals when they came back after being down 1-3. Not only that, but both added to the historic sequence in NBA history. LeBron's block followed by Irving's three in game 7 was the most intense sequence in a Finals game.
ADVERTISEMENT
Article continues below this ad
Though LeBron had entered the second half of his career, Irving was pretty young and was seen as the James' successor in Cleveland. But he decided to part ways with the team. The 2016 season is the only proof of their greatness as a duo, but to judge their further potential, they would definitely be ranked amongst the greatest.