Khloe Kardashian's Fashion Choice at LeBron James' Son's Game Could Make Michael Jordan Happy
Published 12/23/2022, 12:15 AM EST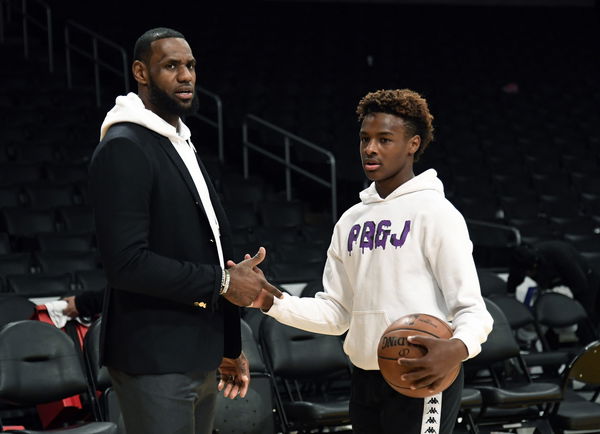 Earlier in the month, a high school basketball game was witnessed by a celebrity-studded crowd. All eyes and cameras were on the game between Sierra Canyon and Christ the Kings. This game received such attention because LeBron James and Carmelo Anthony's sons, Bronny James and Kiyan Anthony respectively, went head-to-head. As their NBA fathers cherished this moment, their friends and family were on the sidelines cheering them on. Some of the A-list attendees included Kim Kardashian, Khloe Kardashian, and Natalia Bryant. While their presence itself was a topic of discussion online, there was one other thing that stood out.
The Kardashian sisters are always closely watched. Each move and each outfit is studied and analyzed in great detail. During the game, nothing changed. People noticed their outfits and fashion choices. Notes were taken about the brands the sisters' flaunted. Furthermore, reports recently have stated that their choice of outfit, especially Khloe's, has likely impacted Michael Jordan.
ADVERTISEMENT
Article continues below this ad
Khloe Kardashian makes an impact on the Jordan brand
Khloe Kardashian sat on the sidelines and cheered for her good friend's son Kiyan Anthony. She wore black leggings with a big puffy black jacket and orange-tinted specs. But her footwear is arguably what stood out the most. Khloe donned a pair of retro Jordan 1's in high dark mocha and they were hard to avoid. Her sister, Kim Kardashian, was also flaunting a pair of Jordans.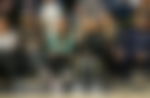 Soon after fans noticed this, reports claimed that the resale value and price of the Jordan 1's were gaining momentum. Supposedly, before the high school game, the value of the shoe was around $130. However, soon after the pictures of the game made rounds, the Jordan 1's prices shot up.
The shoes were now being bought for around $600. The woman's category, in particular, witnessed this spike in price and sales. The TMZ report also stated that sizes 6 and 7 were apparently the most popular ones sold. With this positive change, it is safe to say that Khloe Kardashian's fashion choice would have made Michael Jordan rather happy.
The legacy of LeBron James and Carmelo Anthony continues
Celebrities took to Instagram to share pictures and videos of the game. While the excitement is understandable, for LeBron James and Carmelo Anthony, this game was no ordinary affair. The special game also marked 20 years since the two All-Stars had faced each other during their high school days.
ADVERTISEMENT
Article continues below this ad
For them, it was a sign that their legacy is being continued and is in very good hands. The former Los Angeles Lakers teammates shared a wholesome moment on the sidelines as they hugged each other and laughed. During an interview with ESPN, Carmelo Anthony spoke about this reunion of sorts. While stating that this was a full circle moment for the families, he added, "The legacy continues. It don't stop." 
ADVERTISEMENT
Article continues below this ad
Watch this Story: Michael Jordan, LeBron James, Charles Barkley, And Other NBA Stars Who Have Endorsed Video Games
What did you think of Khloe Kardashian's sneaker choice? Let us know your thoughts in the comments below.