Klay Thompson Knocks Down a Fan as Wild Scenes Emerge on the Internet From Warriors' Championship Parade
Published 06/21/2022, 9:00 AM EDT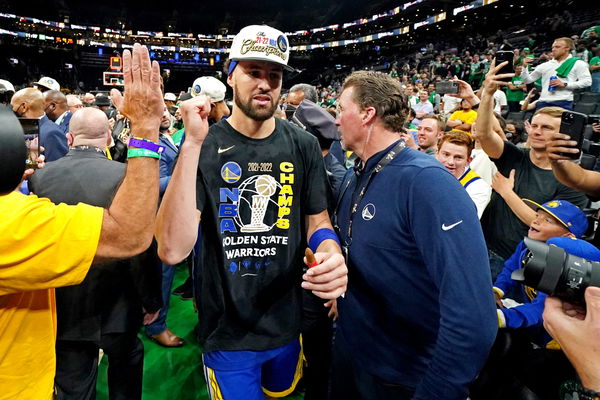 After a grueling few years, the Golden State Warriors finally lifted the Larry O'Brien Championship Trophy again. While people believed the Warriors' championship era was over, the team came through with a strong roster and game. Interestingly, Klay Thompson also returned to the court after a two-year hiatus.
Thompson was injured for two seasons, which ultimately hampered the team's performance. Naturally, after a long wait, the players and fans were equally delighted after the win. The parade, like their win, was a celebration for everyone. What caught everyone's eye, however, was one clip featuring Klay Thompson and a tripped-over fan.
ADVERTISEMENT
Article continues below this ad
In the short video uploaded, Thompson himself takes a small tumble before knocking over a fan. The woman is immediately sent to the floor, though she appeared to be alright. Of course, Thompson himself went to check up on the fan, turning around to help her up immediately.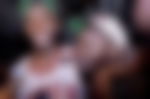 Fans seemed to love the festivities, happy to be a part of the parade after so long. This was also the team's fourth title since 2015. Many experts had already written off the team, putting an end to their dynasty even before Thompson's return.
Klay Thompson and the Warriors go crazy on the championship parade
Despite all the negativity and challenges the team faced, they remained hopeful of winning the title. Not even making it to the playoffs for two seasons, the Warriors underwent some roster changes before the 2021-22 season.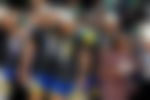 In the end, Thompson, Stephen Curry, Draymond Green, and Andre Iguodala won another title together. Curry even bagged his first Finals MVP award.
Furthermore, there were many other iconic moments from the parade to enjoy.
One of them was Curry dropping the mic, making his statement very clear. Thompson too, seemed to be all smiling with all the other younger players on board. Green, always candid, asked all the haters to 'shut up' after their win. After all, as per Draymond, winners have to win.
ADVERTISEMENT
Article continues below this ad
That being said, this new title can only mean good things for the Warriors. Though people are expecting trades over the next few years, not many will doubt Thompson's place on the team.
ADVERTISEMENT
Article continues below this ad
WATCH THIS STORY: Stephen Curry's Parents Dell and Sonya: Has the Couple Interchanged Partners With a Married Couple?
Do you think the Warriors can win more titles? Let us know in the comments below.