Klay Thompson, Russell Westbrook and Other Former NBA All-Stars Who Don't Deserve Your Votes for 2021
Published 02/04/2021, 11:30 PM EST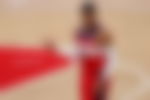 ---
---
As the NBA regular season continues with vigor, another great event is about to grace us with its presence. Yes, that's the NBA All-Star Game, which is just around the corner, and the first round of voting has also been released.
ADVERTISEMENT
Article continues below this ad
On one side, truly deserving candidates have been able to make the cut, but on the other, an inactive Klay Thompson has been in the thick of votes.
Which of the former All-Stars don't deserve votes for 2021?
ADVERTISEMENT
Article continues below this ad
Miami Heat's Jimmy Butler, not an NBA All-Star this season?
After making a run for the NBA title last season, Jimmy Butler hasn't been the same this season. This is the man who is averaging just 18.7 points, 6.3 rebounds, and 6 assists. In fact, this has affected the Miami Heat so much that they're hanging for dear life somewhere at the bottom of the Eastern Conference with a 7-14 record.
However, he still stands fifth in his category despite all the five players below him like Jerami Grant, Gordon Hayward, and Julius Randle having a better season than him.
Then, we have the Golden State Warriors' injury-ridden superstar, Klay Thompson. The shooting guard hasn't played an NBA game since the 2019 NBA Finals after he tore his ACL.
Even though he is a lowly tenth, him being listed among the top guards in the West has rubbed some NBA fans the wrong way. In fact, Twitter fans even expressed their disappointment after they saw his name in the top ten.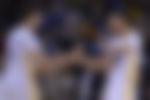 How did Derrick Rose and Russell Westbrook make the cut?
In this unfortunate list, one can't help but mention the two players representing the Detroit Pistons. While the young star, Jerami Grant, is averaging a whopping 23.7 points per game this season, one can't say the same about the veteran player in the team.
Derrick Rose has gotten far more votes in his category than him, while he is averaging only 14.2 points so far. And as usual, the Pistons are suffering, as they stand last in the East.
The same holds true for Portland Trail Blazers' Carmelo Anthony, who is averaging a meager 12.1 points per game. Fortunately for them, they have Damian Lillard and CJ McCollum to keep them afloat.
Last but not the least, Washington Wizards' new addition, Russell Westbrook, is actually above Ben Simmons in votes. While the Philadelphia 76ers are doing wonders and maintaining their first position in the East with back to back stellar performances, the Wizards are barely alive. The Bradley Beal and Westbrook combination is just not turning out as expected.
ADVERTISEMENT
Article continues below this ad
LeBron James and Kevin Durant lead NBA All-Star fan voting in their respective conferences. pic.twitter.com/GVNeLakc8g

— Marc J. Spears (@MarcJSpears) February 4, 2021
This is a testament to the fact that the NBA All-Star game voting doesn't happen on the basis of performance but has a lot to do with favoritism. As per you, which former All-Star doesn't deserve votes this season?
ADVERTISEMENT
Article continues below this ad
Read Also- From Zach LaVine to Jaylen Brown, 5 Players Who Deserve Their First NBA All-Star This Season