Klay Thompson Seen Completely Out of His Senses in Video Leaked by Teammate Draymond Green
Published 06/21/2022, 9:30 AM EDT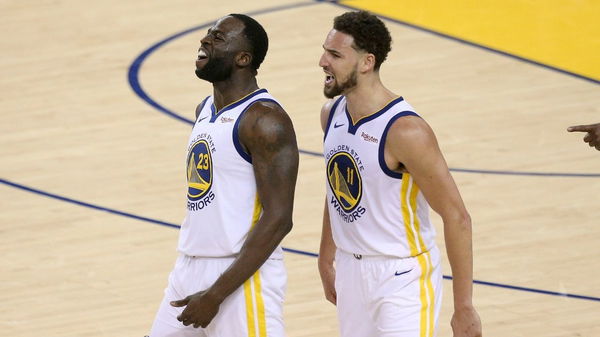 The celebrations were all underway for the Golden State Warriors. Taking a parade around the city, the Bay was in all joys about their fourth championship in 8 years. However, Klay Thompson was in his mood in particular. Draymond Green shared a video of the star completely out of his senses after their epic celebration.
The Warriors had a breakout season after their tough times. For the past two years, GSW couldn't see any post-season action. In addition, Klay's luck also ran out after he suffered an ACL injury. However, after his long absence, the splash brother made his emphatic return to the NBA floor. And the Warriors made it count.
ADVERTISEMENT
Article continues below this ad
Winning the NBA championship, the Warriors further solidified their dynasty. And Thompson was enjoying every second of the winning celebrations.
WATCH THIS STORY – Stephen Curry's Parents Dell and Sonya: Has the Couple Interchanged Partners With a Married Couple?
Klay Thompson goes all out in the Warriors' celebration
Growing into one of the most iconic basketball dynasties, the Bay won their fourth title in the last eight seasons. Getting stronger with the numbers, the addition of Klay back sealed the deal. Dominating the Boston Celtics in the NBA finals, the Warriors were back on top. And Thompson's first season back couldn't have gone better. Likewise, the Warriors man was on cloud nine.
Alcohol and celebrations were all a part of the Warriors' championship parade. And Klay played his part truly. Full of the celebration juices, the record three-point shooter was all out of his senses in a hilarious video.
ADVERTISEMENT
Article continues below this ad
Thompson was making his celebrations worth it, as he had countless moments through the parade. From tromping a fan over to dropping his championship ring, Klay was in his feels. And it wasn't surprising to see. Thompson has made one of the hardest journeys to make his way back. Helplessly watching his team is never an easy job. And after what Thompson endured, a celebration was only due for him.
ADVERTISEMENT
Article continues below this ad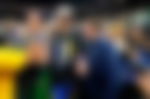 Only just recovering from an injury, Klay wasn't at his best. His performance in the finals was proof as he averaged 17 points per game. Moreover, they are only going to grow stronger next season. Do you think Green's confidence will pay off even next season? Can the Warriors go back-to-back next season? Let us know in the comments below.