Klay Thompson's Dad Makes a Strong Case for Lonzo Ball to Join the Warriors
Published 03/22/2021, 12:30 AM EDT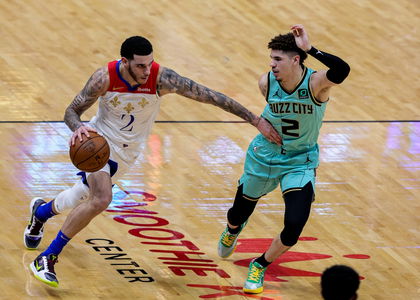 ---
---
Lonzo Ball is probably playing the best basketball of his life in the current season. He has been a major help for Zion Williamson and is also improving his contribution every night. However, his rookie contract is about to end, and his failure to reach an extension with the Pelicans has opened doors for other teams like the Warriors.
ADVERTISEMENT
Article continues below this ad
The playmaking guard has shown that he can be much more than that when given an opportunity. This flexibility in his playing style has made him an ideal choice for the teams like New York Knicks or Golden State Warriors. So, which side/s is more eager to have him on-board?
The Warriors have been eyeing Lonzo Ball for a long time
ADVERTISEMENT
Article continues below this ad
GSW has shown their interest in acquiring Lonzo Ball even in the past. In fact, they were willing to give away an efficient prospect in Kelly Oubre Jr. to trade for the 2017 second pick. That deal never worked out, and now they again have a chance to lock the talent. 
Recently, Klay Thompson's dad and the former 2-time NBA Champion Mychal Thompson also pointed towards Lonzo's worth. In an interview, he accepted, "Lonzo can play. I wish he was on the Warriors passing the ball to Steph [Curry] and Klay."
That said, Lonzo's outspoken father, LaVar Ball, also does not want to see his son continuing to play for the Pelicans. He believes the Pelicans are shifting wrong gears with asking Lonzo Ball to take the defense and shoot more of those corner threes. So does this all hint towards the oldest Ball brother entering the Bay Area? 
How will GSW benefit from the trade?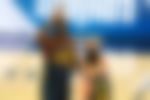 Before getting to that, one can not totally disagree that the Pelicans might still try something to keep Lonzo in contract with them. Sure, they might not shell out 20% of their cap space on Lonzo, but they would like to consider options.
Lonzo gets along really well with Zion Williamson (consider those alley-oop assists) and with Brandon Ingram, even off the court. The three youngsters make for a great trio who can improve in the coming time. Still, with other teams willing to attract Lonzo with a better contract, a move looks more real than ever.
ADVERTISEMENT
Article continues below this ad
For the Warriors, they are in great need of someone who can serve as a floor spacer and help Steph Curry breathe more. Lonzo was never an elite shooter, but that was the case prior to this season.
So, he can remotely make up for Klay Thompson and add his versatility & athleticism to contribute majorly towards GSW's switching. Plus, Draymond Green can have another elite passer in the team, and all that can help their second half of the season.
But in case this is to happen, will the Warriors let go of Kelly Oubre or are they willing to add other names to the trade? Only the March 25 deadline will tell what happens next.
ADVERTISEMENT
Article continues below this ad
Read Also – Golden State Warriors Looking to Get Victor Oladipo? Pros and Cons of the Potential Blockbuster Trade