Knicks' Julius Randle Joins Legendary Larry Bird After Iconic Performance Against Hawks
Published 02/16/2021, 12:45 AM EST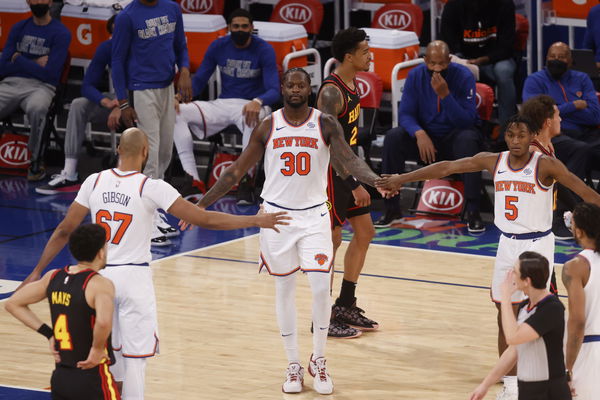 ---
---
If this performance of Julius Randle doesn't make an exemplary case for him to be an All-Star, then what does? The New York Knicks improved their record to 14-15 as they defeated the Atlanta Hawks 123-112. While the Hawks have an 11-16 record and stand eleventh in the Eastern Conference, the Knicks have held on to their sixth position as much as possible.
ADVERTISEMENT
Article continues below this ad
The highlight of this matchup was Randle's extraordinary season-high performance. The Knicks are on a three-game winning streak, having also beaten the Rockets and the Wizards.
Julius Randle makes history
ADVERTISEMENT
Article continues below this ad
It looks like Julius Randle is lobbying for his first All-Star appearance. With his season-high 44 point performance against the Hawks, he also made his seven career-high three-pointers. His stellar performance is a testament to the 26-year-old's transformation from him struggling with the Knicks last season and now on his way to stardom.
From the moment the game began, Randle was on fire. And it was his 11 points in the fourth quarter that sealed the deal for the Knicks. Going 14 for 22 and shooting 7-13 from the arc, he finished the game with 9 rebounds and 5 assists during 40 minutes.
This has helped Randle add his name next to one of the NBA's great's, Larry Bird. As per StatMuse, "Julius Randle should be an All-Star. 23.1 PPG, 11.0 RPG, 5.6 APG, 48/41/80%. There's only one other player with 20/10/5 on 40+ 3P% in a season — Larry Bird."
To be anywhere near Larry Bird's record is an honour in itself, let alone join him. It looks like Randle has made up his mind to take the Knicks to their first playoff appearance since 2013.
Can he make it to the All-Star game?
ADVERTISEMENT
Article continues below this ad
This was one of Randle's best games ever since he signed the three-year contract with New York. Also, he is eighth in fan votes among the Eastern Conference starters. However, it is close to impossible for him to become an All-Star starter with Joel Embiid, Giannis Antetokounmpo, Kevin Durant as his frontcourt competitors.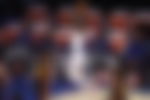 The Hawks are one of the league's worst defensive teams, and the Knicks took full advantage of that. With the way Randle is leading the Knicks, do you see them landing a spot in the playoffs? And if they do, how long can they survive among other dominant teams?
ADVERTISEMENT
Article continues below this ad
Read also- Have R.J. Barrett and Julius Randle Shown That The New York Knicks Are Finally a Functional Franchise?