Kyle Kuzma Comments On Whether or Not His Relationship With Lakers Turned Sour After Trade
Published 09/06/2021, 11:30 AM EDT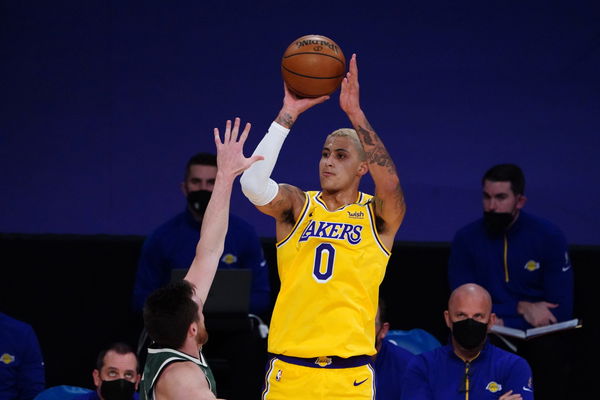 ---
---
In his first two years joining the Los Angeles Lakers, Kyle Kuzma did not take time in getting love and attention from fans. And when the franchise was looking to add another big superstar next to LeBron James, they completely refused to add the youngster to any trade deal.
ADVERTISEMENT
Article continues below this ad
And once Anthony Davis came, he took a lot of the limelight and helped the Lakers win an NBA championship. But this third year for Kuzma wasn't great as fans started to question his ability and wanted him out. Although he was given a chance last season to prove himself, Kuzma's performance made it clear that he was a goner by the next offseason and that's exactly what went down.
There seemed to be a couple of unsettling instances after their exit where first Kyle showed some anger towards the organization. He even blamed the Lakers for his inconsistent role and it seemed like he had taken a shot at his former teammate, LeBron James, when he picked Michael Jordan over him in the GOAT debate. While all of this was subtle and nothing was said out loud, he finally spoke his mind on Gilbert Arenas' show.
ADVERTISEMENT
Article continues below this ad
WATCH THIS STORY: Los Angeles Lakers, Brooklyn Nets & Other Big Three's to Watch Out for in Upcoming Season 2021-22
Do the Lakers and Kyle Kuzma have any bad blood?
It is said that players in their late 20s actually reach the peak of their career in the NBA. So, it seems like Kuzma is yet to get there. This is good news for the Washington Wizards, who got him in a complicated five-team deal that eventually sent Russell Westbrook to the Lakers. This became the blockbuster trade of the season. But did Kuzma accept his fate without any hard feelings or not?
ADVERTISEMENT
Article continues below this ad
On 'No Chill with Gilbert Arenas', he was asked whether there is any bitterness between him and the Lakers or LeBron James. "It's all love. All love for sure," Kuzma clarified. "A couple of days after I got traded, we were hanging out, chilling or whatever."
"I came in as a Laker and saw it was family from the jump. And even leaving, it was still family. You know getting calls or texts from Jeanie or Rob or equipment managers or people who work the front gate. Everyone is like, 'Hope you have a successful career. You're doing this and that. So no bitterness, no nothing for sure."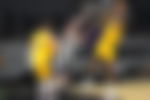 Now that Kuzma is turning a new page in his career with the Wizards, in the podcast, he has already expressed how excited he is to play for the Wizards. Whether or not Kyle shines elsewhere is something we'll all have to see in the 2021-22 NBA season.
ADVERTISEMENT
Article continues below this ad