Kyle Kuzma Starts Campaign for LeBron James's Candidacy for Selection to All-Defensive Team
Published 03/01/2021, 5:00 PM EST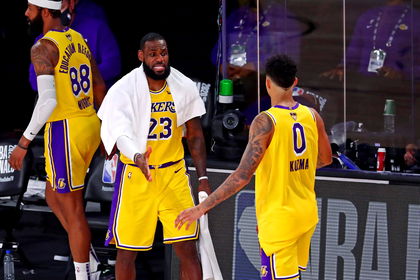 ---
---
LeBron James is going to go down in history as one of the best defenders of his generation. While many fans may audibly gasp at that statement, his resume speaks for itself.
ADVERTISEMENT
Article continues below this ad
He has made 6 All-Defensive Teams in his career. Five of them were All-Defensive First Team honors, while LeBron also made it to the second-team once.
However, after LeBron rejoined the Cleveland Cavaliers, he started taking possessions off on defense. That has hurt LeBron's reputation as a defender, but he has been playing D ever since Anthony Davis joined him.
ADVERTISEMENT
Article continues below this ad
Kyle Kuzma believes that LeBron should get the credit for his defensive output by being named to an all-defensive team this season.
While intangibles would always argue in favor of LeBron James, it is hard to argue for him here. While there is definitely a compelling argument that can be made, there are many players that may get a spot in front of the King.
But is it possible that LeBron sneaks an all-defensive spot for himself?
LeBron James: Has he earned an all-defensive position?
LeBron James is a great defender. On some nights, he is easily the best defender on the court. But for a regular-season that has 72 games, it is hard to say LeBron is the best in that case.
While he has led the Lakers to a winning record, there is no statistic that LeBron has had that is a significant departure from what he has done before. Be it regular stats or advanced stats.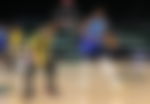 Only four forwards make all-defensive teams, and LeBron may have a list of players ahead of him. Three players that will definitely make it in ahead of him are Paul George, Kawhi Leonard, and Giannis Antetokounmpo.
ADVERTISEMENT
Article continues below this ad
Everyone has already had a lot of the LeBron James for MVP narrative. While that is still a believable one, selling LeBron as an elite defender at age 36 is hard.
He is still phenomenal, but many players in the league have since surpassed his defensive output. Sorry Kuz, but this may not end up happening.
ADVERTISEMENT
Article continues below this ad