Kyrie Irving Describes What Brooklyn Nets Need to do In Order to Win Big Games
Published 02/15/2021, 1:00 AM EST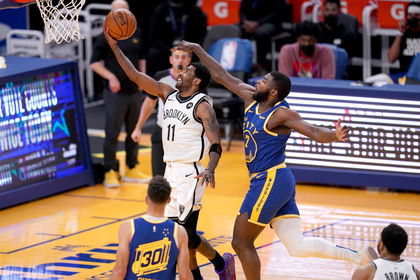 ---
---
The Brooklyn Nets exposed the faultlines in the Golden State Warriors defense as they crushed them 134-117. In fact, the Warriors ended up looking like a talentless team in front of their Big Three. Kevin Durant's return surely affects the Nets' confidence in a good way, and while most thought this trio will be a disaster, it looks like the three of them have their priorities set straight. After this matchup, Kyrie Irving explained that he has given James Harden the point guard role for a specific reason instead of keeping it for himself.
ADVERTISEMENT
Article continues below this ad
James Harden as the point guard of the Nets
In the post-game interview, Kyrie Irving was asked about James Harden's passing performance. However, he ended up clearing out who the PG on the team is. "Just staying consistent," he stated. "I feel like he's been doing a great job of just managing the point guard role.
ADVERTISEMENT
Article continues below this ad
"We established that maybe four days ago now. I just looked at him, and I said, 'You're the point guard, and I'm going to play shooting guard.' That was as simple as that. It's not a mystical conversation that we had.
"He's been taking control of the responsibilities and doing an incredible job," Irving added of Harden. "It just makes my job easier to just go out and play free and just make plays. It's a luxury. Just want to continue it."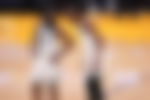 Kyrie Irving on the necessary sacrifices
When asked about the collective mentality and the sacrifices they are making to live up to the Big 3 mantel, Irving said, "For the past few weeks, just not taking any day for granted. We don't want to take our greatness for granted in terms of where it is now. And we want to hold each other accountable to reach another level in terms of long term.
"We look forward to continuing to have performances where we understand coming into the game, that we have to make sacrifices. Each one of us. In order to be at our highest potential as a team. It is not an individual game as much anymore. We are not called upon to be the main guy. So, we have got to sacrifice, and it's fun," he further explained.
ADVERTISEMENT
Article continues below this ad
The Nets are holding on to their third position in the East with a 16-12 record. With Kevin Durant back on the lineup, their next few games will hopefully go smoothly, and they will improve their record.
Will the Brooklyn Nets stand up to all the hype surrounding them this season?
ADVERTISEMENT
Article continues below this ad
Read Also- Former NBA Champion Sheds Light on Biggest Flaw of Brooklyn Nets' 'Big Three'