Kyrie Irving Shuts Down Idris Elba's Desire to Play Michael Jordan With 3 Unapologetic Words
Published 09/03/2022, 11:17 PM EDT

Follow Us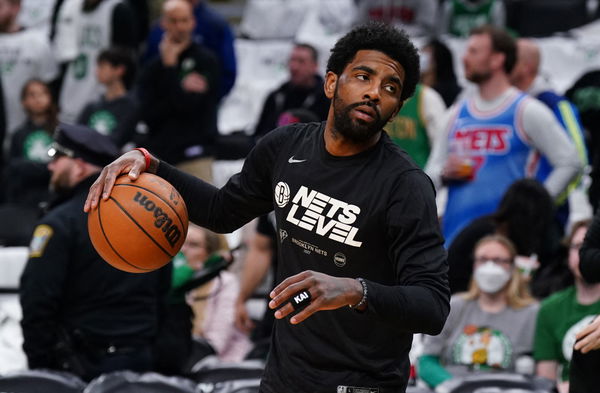 Kyrie Irving is seemingly unsure whether Idris Elba would be able to give the role of Michael Jordan justice. While on 'The Shop' alongside Elba, the Brooklyn Nets star thought he couldn't see the veteran actor play that part yet. According to Elba, he has already put feelers out publicly that he wanted the role of the legendary role. Irving wasn't too impressed.
Elba seeing that said, "Yo, you gave me the stink face. What's that about?". Irving just said, "I don't know. I don't know right now". Irving did clarify that it doesn't mean that he doesn't see Elba not playing the role well, but rather that he was uncertain about casting him specifically.
ADVERTISEMENT
Article continues below this ad
One of the co-hosts asked whether Elba can hoop. The actor replied by saying that it is not about hooping but about Michael Jordan the businessman. The actor thought that no one wanted to see someone pretend to play basketball. He thought that Jordan the businessman was an aspect no film or media has touched upon. Actress Drew Barrymore, who was another guest, agreed with Elba and thought that it would be an interesting subject to make a film on.
Elba didn't outright dismiss the hooping but thought that it wouldn't be the main subject of the movie. He was also annoyed during the same show about the assertion that British actors were stealing roles from American actors. The actor famous for roles in 'Luther' and 'The Wire' stated that it was an "unintelligible argument".
Kyrie Irving, Kevin Durant, and the Nets saga
ADVERTISEMENT
Article continues below this ad
The Kyrie Irving and Kevin Durant saga came to an anti-climatic end after both ultimately chose to stay and play for the Brooklyn Nets. Irving has already signed a one-year $37 million player's option extension.
Durant was insistent on leaving the franchise for a new one. Names such as the Boston Celtics and the Phoenix Suns were floated about. But, ultimately, it ended with the player staying in Brooklyn.
ADVERTISEMENT
Article continues below this ad
Watch this Story: Who Was Drafted Before Michael Jordan? Where Are They Now and How Was Their Career?
The team will run it back again with a healthy Ben Simmons and a few other additions. They have the potential to qualify for the playoffs again, but it all arguably depends on the chemistry shown by the players on the court together.