Lakers' Alex Caruso and Duncan Robinson Give Details About Their Awkward Elevator Ride in NBA Bubble
Published 01/29/2021, 11:29 AM EST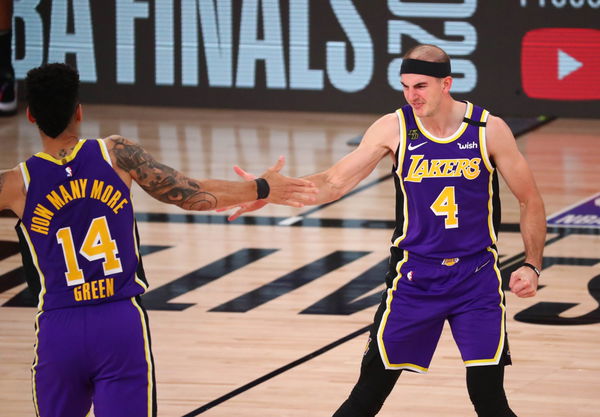 ---
---
The Orlando Bubble last season was interesting, difficult, and confusing, all at the same time. It wasn't easy for teams to stay completely physically detached from the outside world, but amidst the COVID-19 pandemic, it was the only way. Two teams who stayed the longest in the bubble were the Los Angeles Lakers and Miami Heat, who made it to the NBA Finals. However, Alex Caruso and Duncan Robinson want to share a hilarious story about their bubble experience.
ADVERTISEMENT
Article continues below this ad
The most awkward elevator ride for Alex Caruso
Not knowing what to say while riding an elevator is a common situation to be in. But there is a story that probably after Game 1 of the NBA Finals, when the Lakers had crushed Miami Heat, Duncan and Caruso ran into each other in the elevator. So, in conversation with The Long Shot, Alex revealed what he felt at that moment.
ADVERTISEMENT
Article continues below this ad
"I just didn't know what to say," he started off. "We're both in the middle of the biggest competition of our lives. I know he's probably pissed and upset because they lost the other day. And I am kind of in a decent headspace because we played well and got the win."
He explained his confusion as he said, "I don't want to say good luck because I don't want him to win. It was just a loss of words and I didn't know what to say at the time."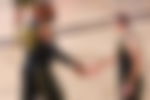 Why Duncan Robinson didn't say a word
ADVERTISEMENT
Article continues below this ad
The story didn't end there. Robinson gave his side of the story and stated, "That was a long 30 seconds. The bubble was full of those kinds of interactions. As long as we weren't playing in a series, I would always say hi! Especially if I had a connection with someone or we knew each other a little bit.
"But that was one of those where it was like, I was just so pissed about how game one had gone for a variety of reasons. I played terribly. I was basically a no show. We got smacked, we got blown out. Of course, it's just you and I want to say Hi to you because we're cool but it was just one of those…"
ADVERTISEMENT
Article continues below this ad
Fortunately for Alex, the two didn't take the same elevator when the Lakers won the NBA title. How awkward would that have been? Once again, the two teams are in the run for a title and the Lakers are hoping to get a repeat. Do you think they can make it happen?