Lakers' Dennis Schroder Calls LeBron James the Best Point-Guard Ever
Published 03/27/2021, 12:00 PM EDT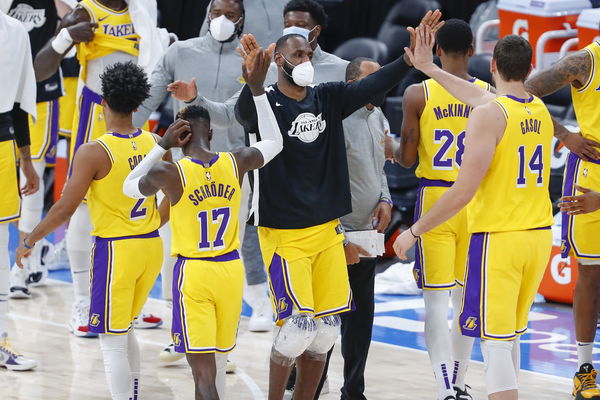 ---
---
LeBron James is one of the most versatile players in the NBA. While being a small-forward by nature, he can play several different positions. James' freaky combination of size, speed, and athleticism makes him the Swiss Army Knife of the Los Angeles Lakers. In more recent years, his passing vision has placed him in the point-guard bracket, and one teammate believes he is the best ever in that position.
ADVERTISEMENT
Article continues below this ad
Schroder calls LeBron James the best PG ever
Lakers' Dennis Schroder spoke after the Lakers' win over the Cleveland Cavaliers. When talking about his teammate LeBron James, he had incredible praise for him. Schroder called James the greatest point guard of all-time. That is a heavy statement, given the historically amazing point guards, the NBA has seen in the last 40 years alone. But LeBron's play merits those comparisons.
ADVERTISEMENT
Article continues below this ad
Dennis Schröder just said LeBron James is the best point guard ever.

— Jovan Buha (@jovanbuha) March 27, 2021
Schroder, being a point guard himself, understands the position very well. And he has had the opportunity to play with another of the NBA's great point guards – Chris Paul. So Schroder's comments on James being the best ever in the position should not be dismissed. In the last few years, James has earned consideration and comparisons to players like Magic Johnson.
James has always been a pass-first player. What makes him even better is that his passing range is unparalleled in the NBA. Oftentimes, James makes passes that most people wouldn't even see with their two eyes. His vision is up there among the greatest passers in NBA history. To add to that, James is also an incredible scorer and can do everything on the court.
LBJ and his incredible vision
ADVERTISEMENT
Article continues below this ad
Last season, James led the NBA in assists. As a point guard, the primary focus is always on facilitating for the team. And James has done that on several occasions. Last year, James was focused on setting up many of his teammates, most notably Anthony Davis, who led the Lakers in all categories except assists. James has always been a very unselfish player, who wants to help those around him.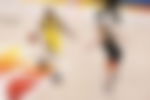 ADVERTISEMENT
Article continues below this ad
Is LeBron James the greatest point guard of all-time? One can easily make that argument. However, for many, Magic Johnson is still up there as one of, if not, the best point guards. Furthermore, James' original position being small-forward gives detractors ammunition to disqualify him from the point-guard argument. BUt James embodies what it is to be a modern-day NBA point guard, with amazing scoring and facilitating.