Lakers' LeBron James Calls Jaylen Brown 'Underappreciated' During 2021 All-Star Draft
Published 03/05/2021, 10:30 AM EST
---
---
Two of the best players in the NBA got together virtually and drafted their respective rosters for the 2021 All-Star game. Fans are already going berserk about how LeBron James went with his selections, and Celtics fans can be happy too, about a statement LeBron made during the draft! 
ADVERTISEMENT
Article continues below this ad
First things first, LeBron James hit the lottery with his starters. He's got Steph Curry, Luka Doncic, Giannis Antetokounmpo, and Nikola Jokic starting alongside him. 
Antetokounmpo is now majorly hyped after learning about his All-Star team, and a lot of fans are already backing this team to win the eventful game on March 7. 
ADVERTISEMENT
Article continues below this ad
Team LeBron and Team Durant are set.

Who you got 👀 pic.twitter.com/mw3nykmji0

— Bleacher Report (@BleacherReport) March 5, 2021
LeBron James showered Jaylen Brown with respect during the draft
LeBron was keen on lining his team with incredible talents, and the Lakers superstar didn't disappoint with his reserve picks. After putting together a sublime starting lineup, the 36-year-old then moved onto the reserves and selected Damian Lillard with his first pick in the second round. 
Ben Simmons and Chris Paul then followed Lillard into LeBron's team, after which the four-time MVP made his fourth pick in the second round. 
"With my fourth pick in the second round, I'm gonna go with Jaylen under-appreciated Brown, from the Boston Celtics," said LeBron during the TNT broadcast. 
While Jaylen Brown is a reserve on Team LeBron, his Celtics teammate Jayson Tatum has been awarded starting duties in Kevin Durant's All-Star team. Which Boston player will end up on the winning team during the weekend? 
Does Brown deserve his first All-Star selection?
Jaylen Brown has been in the league since 2016 and has been performing with spark for the past couple of years. He is undoubtedly a deserving All-Star this year for the numbers he's been putting up for the Celtics. 
ADVERTISEMENT
Article continues below this ad
Brown is currently one of the Top 20 scorers in the league and has been efficient with his offense. Though Boston is finding it hard to get the wins on the board, Jaylen Brown has been giving his 100% whenever he takes to the court.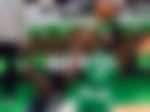 Brown would pride himself on being picked by LeBron James, and he has every reason to feel that way. An All-Star selection would only motivate players to perform better and live up to their reputation during the second half of the regular season. 
ADVERTISEMENT
Article continues below this ad