Lakers' LeBron James Credits Tom Brady For Inspiring Him After His Season High Performance
Published 01/26/2021, 8:39 AM EST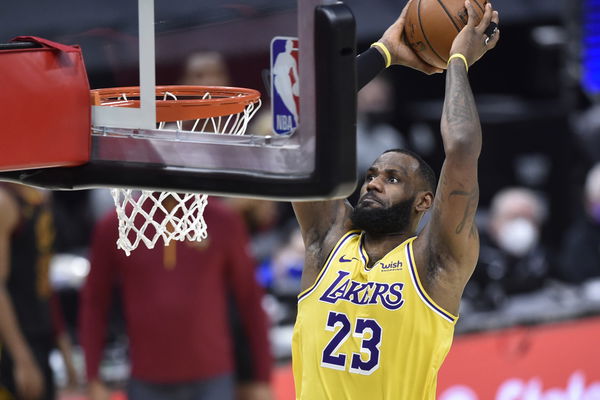 ---
---
Clearly, LeBron James felt most comfortable playing in the state he grew up in, and against the franchise he spent the first seven seasons of his career. With his season-high 46 points, The Lakers propelled to a 115-108 victory against the Cleveland Cavaliers.
ADVERTISEMENT
Article continues below this ad
And it looked like LeBron single-handedly bagged this win for them. How did he do it? Well, he knows exactly what pushed him to give this stellar performance.
All it took to get LeBron James into form
ADVERTISEMENT
Article continues below this ad
The last time James played the Cavs, it didn't feature even half the fireworks that this matchup did. He started off with a bang and had 17 points under his name by the end of the first quarter. By the time the fourth quarter came, James was so fired up that 23 of his 46 points came in that final quarter.
If this game couldn't get any better, James also matched a record set by the Lakers legend Kobe Bryant. He became the oldest Lakers player to have scored 40 in one game after Kobe's iconic 60-point performance in his career finale. So, how did James do it? The answer will surprise you.
"Home cooking," he started off. "You got an opportunity to see your mom and get a home-cooked meal. Saw my uncle. Felt good to be back in my haven, my rest haven, and that's being home. And obviously, you get inspired watching the greats play."
James also gave credit to Tom Brady, who just punched his ticket to the Super Bowl. "Seeing Brady, seeing the things he did with that team. That inspired me as well. But I just felt pretty good as I have the whole season. I've been getting better and better as each game goes on. Felt good from the beginning and just trying to keep it going," he explained.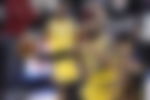 Are the Lakers headed in the title's direction?
If LeBron ends up getting his home-cooked meal and his mother, the Lakers might become indestructible. However, that isn't possible, but the team looks great. They are leading the West with a 14-4 record and on a three-game winning streak now.
Also, with Anthony Davis as his right-hand man, what could go wrong? If Davis doesn't come up big in scoring, he ensures the playmaking is top notch. He finished with 17 points against the Cavs but had 10 rebounds and 4 assists with it.
ADVERTISEMENT
Article continues below this ad
They are set to face the top team of the East next, the Philadelphia 76ers. Which leader of their respective conference will prevail over the other?
Read Also- Where Does LeBron James Live? All That We Know About His Massive and Luxurious Villa
ADVERTISEMENT
Article continues below this ad