Lakers' LeBron James Reacts to Being Oldest Player to Record Consecutive Triple- Doubles
Published 03/17/2021, 8:48 AM EDT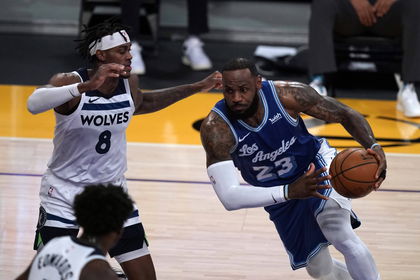 ---
---
The Los Angeles Lakers look like they've suddenly come back from the dead after the All-Star break. Before that, they were even losing to average teams like the Sacramento Kings and Washington Wizards. But now they're bringing back their momentum. They've had three straight victories since they've returned and LeBron James deserves a lot of the credit for it. In fact, he has etched another record in the NBA's history books with his elite scoring.
ADVERTISEMENT
Article continues below this ad
LeBron James not losing his touch
The Lakers, who are standing third in the Western Conference with a 27-13 record, have had quite a bit of bad luck lately. They've had star players facing injuries that has left LeBron James to handle the team single handedly. Without Anthony Davis, the team seemed to be struggling. Although, it looks like the supporting cast is now stepping up to fill Davis' void.
ADVERTISEMENT
Article continues below this ad
Moreover, Bron is seeing plenty of individual success as well. Not only is he in the run for the MVP this season, but his All-Star team also won hearts with their wonderful performance. And now, with back-to-back victories against the Golden State Warriors and the Minnesota Timberwolves, he has become the oldest player to record consecutive triple-doubles.
Against the Warriors, his performance trumped Steph Curry's 27 points because he finished the night with 22 points, 10 rebounds, and 11 assists. How could they not have won that game? After this came their matchup with the Timberwolves, which recorded 25 points, 12 rebounds, and 12 assists.
However, Bron couldn't believe he is already this old and even reacted to this unique record.
Can the 36-year-old still carry the Lakers to a championship?
Does LeBron, from any angle, look like he 36-years-old? In fact, he seems fitter than so many players and is still playing like he is in the prime of his game. But does that mean he can bring them another title?
ADVERTISEMENT
Article continues below this ad
Well, Bron maybe this generation's GOAT, but he still needs a healthy roster to back him up. Their chances at a repeat become bleak without AD present to back him up. With the Brooklyn Nets having one of the best Big Three's and the Philadelphia 76ers going unmatched, the Lakers won't have it easy.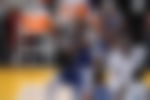 That too also if they reach the NBA Finals. They even have the Utah Jazz, Phoenix Suns and even the Warriors, on their best days, to face. Do LeBron James and Co. have it in them?
ADVERTISEMENT
Article continues below this ad
Read also- 'Got So Much to Give to the Game': Lakers' LeBron James Talks Ambitions to be NBA Franchise Owner