Lakers' Legend Shaquille O'Neal Reveals Michael Jordan & Three Other Players He Was Terrified To Play Against
Published 05/17/2021, 11:48 AM EDT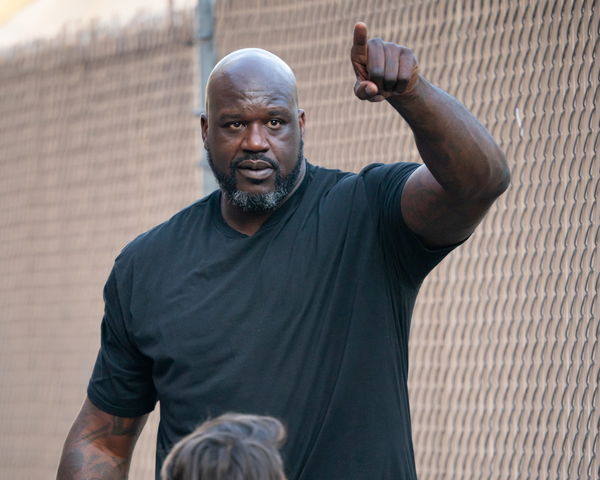 ---
---
Shaquille O'Neal was arguably one of the most dominant players the NBA has ever seen. With a massive 7'0″ frame, Shaq was a nightmare to defend in his prime and could bully players at his will.
Playing for some of the best teams in the Orlando Magic, Los Angeles Lakers and Miami Heat, Shaq won a whooping four championships, three Finals MVP trophies and a regular season MVP trophy in the 1999-2000 season.
Shaquille O'Neal opens up about players he was terrified of playing against
Given how dominant Shaq was, he undoubtedly became one of the most terrifying players in the league. So, it was a big surprise when Diesel revealed that he feared four players in his playing days.
In a recent appearance at the Big Podcast, Shaq named Michael Jordan and three other players he considered as a threat.
"I mentioned this a couple years a couple couple months ago about when I was playing against Jordan how terrified I was. There was only a couple players that when I first went up against, I was terrified.
"Patrick Ewing, terrified because I grew up watching him because you know he knows I'm from new jersey, I had a pair of orange and and blue Ewings. I actually was terrified of Mike. Man, I was terrified of getting dunked on by Dominique and I was terrified of David Robinson."
ADVERTISEMENT
Article continues below this ad
As a freshman from LSU, Shaq idolised centers like Patrick Ewing and David Robinson. But unlike his idols, Diesel wasn't a traditional center, but he rather played as a guard in high school.
With his massive size and guard like skills, Shaq became a feared big man ever since he made his debut, and his accolades speak for themselves.
When Shaq dunked on Patrick Ewing
NBA players always idolize the best before coming into the league. In the 80s and 90s, Patrick Ewing was among the best centers if not the best center in the league. Players in the league often don't get the chance to play against there idols.
But Shaq not only played against his idol, but he went blow for blow against the 11 time All-Star. Playing against the Knicks at the Garden, Shaq was being torched by Ewing.
But early in the second quarter, the sophomore out muscled Ewing and threw down a dunk spicing it up with a mean face.
Diesel spoke about the same in his recent appearance at the Big podcast. Shaq revealed the reason behind the face, "I dunked on him (Ewing) and I had the face like I was mean. But I was like, 'Oh my god. I just dunked on Patrick Ewing. Oh my god, that's dope."
O'Neal and Ewing certainly cemented their position as two of the best centers of the 90s. As the game sees an approach to a more perimeter based play, do you think we will see a player like Ewing or Shaq in the near future?